What is the best office vacuum cleaner UK?
The purpose of this blog is to help you selecting the UK's best office vacuum cleaner UK market.
Selecting the best vacuum cleaner for your office, school, retirement living premises or any other sector is not always a straightforward decision. The purpose of this article is to give some guidance to help you make the best choice.
What types of vacuum cleaner are there?
There are three main types of vacuum cleaner that you are likely to be considering if purchasing to use in-house. A good commercial cleaning company will have access to other options including backpack vacuums, but the following three types are the ones for you to realistically consider.
You should consider the following points when making your selection
Is the vacuum being used out of hours? Do trailing cables matter or not?
How big is the area being vacuumed?
How far is it between plug sockets if you are using a cabled vacuum?
How far is it between plug sockets if you are using a cabled vacuum?
What sort of area needs vacuuming – are there small areas where a larger vacuum may not be able to access?
Your budget
Option 1 (of 3) - tub vacuum
The easiest way to quickly describe a tub vacuum cleaner is by saying Henry vacuum cleaner.
A tub vacuum as the title suggests, has a main tub base, and a pipe that leads to a separate pipe with the head on it. Smaller and lighter than upright vacuums, tub vacuum cleaners are great when storage is limited.
The long hose is also beneficial if you have a lot of stairs to vacuum at your premises, meaning you can leave the tub on the landing, and complete the task with the hose.
Most tub vacuums will require a bag and this must be checked regularly to ensure it isn't overfilled. There any many eco-friendly bags now that are made from paper, with no plastic part at all. Having a bag is also beneficial if you suffer dust allergies, compared to stick vacuums or bagless vacuums, where the dust is held in a canister and has to be manually emptied.
Most tub vacuums are corded, so you should ensure that your workplace has enough plug sockets to service the vacuum you are selecting. Cord lengths of vacuums can vary by as much as four metres. The cable length of a standard Henry Vacuum is 10 metres.
For most offices, it is hard to beat a Henry Vacuum from a balance of performance and cost. We think that a Henry is a solid contender when it comes to selecting the best office vacuum cleaner UK
For larger premises, more consideration is required around the next two options also.
Option 2 (of 3) - Upright vacuum cleaner
Upright vacuums typically offer a larger head that a tub vacuum. This enables them to cover more surface area and reduce vacuuming time needed. Powerful brushes help to beat the carpet pile to improve results and larger capacities reduce the frequency of bag changes.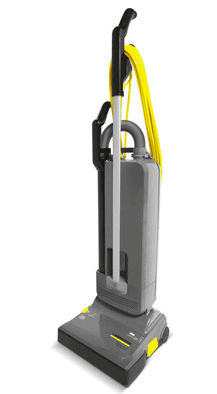 Upright vacuums are considered the most reliable type of vacuum cleaner, with some models known to last 15-20 years. This alone makes them a strong contender for the best office vacuum cleaner UK due to the lifespan of them.
The design of an upright means that it has to be built with strong materials as it has to withstand a lot of punishment when cleaning.
Cable length of the vacuum should always be a consideration as above in the tub vacuum.
Option 3 (of 3) - Stick vacuum cleaner
Stick vacuum cleaners are the more recent addition to the range, with Dyson being the most well-known brand, due largely to their extensive advertising.
Battery powered stick vacuum cleaners are flexible and fast, making them extremely agile. You can take it into places where corded vacuums can't reach or are inconvenient to use. No searching for an outlet or dragging out heavy, invasive extension cords. You just grab and go.
They are normally (not always) bagless, and naturally have a smaller chamber for holding dust and dirt as sucked up, so always ensure the vacuum has sufficient capacity for the requirement of your workplace.
Something to consider is that you would need a suitable location for a charging point to be mounted. Many premises do not have a dedicated cleaning cupboard with a spare plug socket. The best office vacuum cleaner UK without a charge point if cordless becomes the worst vacuum cleaner!
Stick vacuums are generally the least robust and need to be handled carefully. Balance them against a table, let them fall and they may stop working! Due to their bagless chambers they also have a filter that will need cleaning more often.
A good stick vacuum will normally be the most expensive. As an example, we have placed four of the latest Dyson V11 stick vacuums at a large office block that we clean daily with multiple cleaning operatives. The outlay for these four vacuums was circa £2,000 compared to circa £400 if we had placed four Henry Vacuums, but the stick vacuums allow much better, quicker vacuuming of large call centre areas and achieve a better result. We focus on placing the best option at every site to achieve the best result, rather than the cheapest option.
The Dyson V11 gives a digital display showing how much running time is left for the user, automatically varies the power depending on the floor type, and has exceptional suction power for a cordless unit.
So which option is best for our office?
At Green Fox Cleaning, we have tried and tested many vacuums, with manufacturers often approaching us to try their latest models, with many claiming they have the best office vacuum cleaner UK. We operate all three of the above styles, as well as other vacuums such as backpack vacuums, in areas of heavy footfall. We provide vacuum cleaners as part of our regular cleaning services at all premises, and will always place the most effective one for your premises.
Ultimately, what you consider the best office vacuum cleaner UK will come down largely to the above points.
Don't want the hassle of buying your own vacuum?
We place the best vacuum cleaner and all other products at every premises. To find out more about our office cleaning services, click here to learn more about our office cleaning service. We would be delighted to provide a free, no obligation quote.
Let us place the Best office vacuum cleaner UK at your premises, or whatever sector you operate within.