"Reliable commercial cleaning company near me" is a commonly searched Google term. With the amount of commercial cleaning companies out there and the apparent large selection to choose from, this should come as no surprise.
How do I find a reliable cleaning company?
There are a number of ways to find a reliable cleaning company. A few of the most common methods include:
Referrals from other local companies in similar industries. Referrals are great, however ensure the person referring has the same high standards that you are seeking.
Research from independent review platform websites, such as trustpilot.
Get companies out to quote, and see which one fills you with the most confidence.
You can read more Green Fox Cleaning independent reviews at this link:
https://uk.trustpilot.com/review/greenfox.co.uk
How do I know if a cleaning company will be reliable?
Cleaning should be largely invisible to the customer, being completed normally out of hours. You should ask any potential cleaning contractor what safeguards they have in place to ensure you never come in to a dirty premises. At Green Fox, we have the following measures in place to ensure reliability:
Advanced employee GPS system monitored round the clock, where all employees "clock in and out" at each site. In the event of a failed clock in, an on-call manager is alerted at the time by the system, be it 4pm or 4am, and will scramble to ensure the clean is completed if they are unable to contact the employee for any reason.
24-hour employee and client support line, meaning our employees can alert us of any issues at the time.
Fairly paid, highly motivated staff dedicated to each client, to ensure personal pride is taken in the venue.
Are reliable cleaning companies cheap?
It is important to remember that a truly reliable cleaning company will rarely be the cheapest due to the extra investment in delivering such high service levels, but at Green Fox we aim to deliver unbeatable VALUE. This is not to say the price will necessarily be higher and may be the cheapest, but ask yourself is an extra pound or so an hour worth the extra peace of mind to know you are keeping your staff and visitors safe?
Don't forget - price is what you pay, value is what you get.
This all sounds great. How do I find my local Green Fox office to request a quote?
Simply visit this link and search by postcode, or call to discuss your needs:
https://www.greenfox.co.uk/contact/
Selecting the best office cleaning products is not as straightforward as it may seem. There are literally thousands of products on the market, all with different claims, pros and cons and the all important contact times.
What are contact times?
Never heard of contact time? You're probably not the only one. Essentially, it's the amount of time a cleaning agent—a spray or a wipe, whatever you use—needs to be in contact with a surface in order to kill the bacteria, viruses, and other not-great things lingering there. If you're not waiting long enough, your cleaning product probably (almost certainly!) isn't getting rid of the potentially illness-causing cells. If you're spraying and wiping as you go to clean quickly, without waiting the prescribed contact time, you're really just doing a surface clean by wiping up dirt, debris, and other particles—not the bits that can really get you sick.
If you look at the use instructions on the rear of disinfecting products, you'll see contact times. They tell users how long a solution needs to be in contact with the surface in order to kill the bacteria and viruses living on it—and in many cases, it's likely much longer than you think.
Some common contact times for household cleaners are three minutes. Hospital grade disinfectants often have a contact time of ten minutes. Whatever and wherever you are cleaning, if you're wiping up the cleaning liquid before the contact time, you're limiting its disinfecting power.
How many different cleaning products do I need for my office?
This will depend very much on the products purchased. Generally speaking, standard supermarket "off the shelf" products are advertised and suitable for small sections of cleaning only, and could result in the need for different products for:
Desk cleaning and sanitisation
Hard floor cleaning
Kitchen / break out area cleaning
Stainless steel / limescale remover for taps and sinks
Glass and mirror cleaner
Toilet cleaner
Are there some products that are better than others?
Like most things in life, some products will be more developed, offer greater results and be more versatile. Advertising will also pay a large part - often you will see bold adverts on television stating they kill 99.9% of germs - a lot of cheaper less well known brands will do the same. Read packaging and compare ingredients and claims if buying off the shelf.
What products do Green Fox Cleaning use?
As you would imagine, over the years we have tested hundreds and hundreds of products. We are approached daily by product suppliers, making bold claims about their products and asking us to test them, which we often do. For us, all products used by us must meet the following criteria:
Eco-friendly, with plastic free or massively reduced plastic usage
Be effective and fit for their particular task
Be safe and non-toxic to humans and animals
Have contact times that are appropriate and efficient during our visits
Through our careful product selection, we will normally only require the use of three or four cleaning products at most sites. This keeps operations straightforward for our highly trained cleaning operatives and keeps consistency at all sites we work at. Our core key products are also used in dosage systems, reducing our plastic usage by up to 99% on these products!
Our site packs containfull COSHH and safety data information on all products kept on site in the event of an emergency.
If you would rather let us take care of your office cleaning, be it daily or weekly, why not get in touch and request a free and no obligation quote today!
The Green Fox protective film door handle utilises the latest technology and is specifically designed with an antimicrobial coating, to keep staff and visitors alike safe at all premises. Once applied, they will last a whole year before they need to be replaced, offering ongoing daily protection.
The Green Fox Protective Film anti-microbial covering can be applied to a wide variety of surfaces as long as they are clean, dry, smooth, non-porous and free from oil, grease, wax or other contaminant.
In terms of handles, they are compatible with traditional door handles, as well as push plates and handrails.
Our protective films are available in the following pack options:

APPLICATION GUIDE
The Green Fox Protective Film anti-microbial covering can be applied to a wide variety of surfaces as long as they are clean, dry, smooth, non-porous and free from oil, grease, wax or other contaminant.
Always assume that every surface is dirty and needs to be cleaned before application. It is recommended to wear nitrile or vinyl gloves whilst applying.
For standard door handles with a diameter of up to 22mm then use the 70mm x 160mm size.
You may want to reduce the length depending on the design of the handle. This is best done with a pair of scissors before removing the backing. Once it has been cut to size remove the backing completely and carefully apply the film along the length of the handle starting on the underside.
Continue to apply the film working round the handle and moving your hand from left to right to ensuring adhesion along the whole length. Finish the application with a small overlap onto the other end of the film. You may also want to remove any excess overlap with a sharp craft knife.

For larger handles, balustrading and handrails you can calculate the approximate circumference of the tube (and the width of the film you will need) by multiplying the diameter or width of the tube by 3.2.
E.g. if you have a handrail that is 50mm diameter then 50 x 3.2 = 160 so our 160mm x 1370 size would probably be a good option.
For small flat surfaces like push plates or ipads or coffee machine touch screens then you need to again make sure the surface is clean and dry. Start at one end and peel back around 7 - 10cm of the backing and work down, gradually removing the backing as you go.
You may find it useful to invest in a small felt-covered squeegee. For a touch screen it is best to cut the film slightly over-sized and trim it to size with a sharp craft knife after it has been applied.
OTHER INFORMATION
• Under normal usage conditions, harmless when in contact with human skin (skin compatibility study carried out under dermatological control). It has no allergenic or irritant potential.
• Active compound: silver ions,< 0.3 % w/w of the entire product.
• Antimicrobial activity maintained after 365 cleanings with water, alcohol, chlorine bleach and Aniosurf® (respect the dilution recommended by the manufacturer).
• The film can be cleaned/disinfected by all conventional cleaning methods, using non­-abrasive accessories, cleaning products, detergents or products currently used in healthcare environments.
• Only apply the film to areas that will not be in direct contact with unpackaged food.
• Suitable for application to regular or irregular surfaces.
• Recommended minimum application temperature: +10 °C (+50 °F).
• Operating temperature range: from -40 °C to +90 °C (-40 °F to +194 °F).
• In the case of an already painted substrate, self-adhesive media must only be applied to undamaged original paintwork. If the paintwork is not original and/or damaged, the appli­cation and the removal are at the judgement and risk of the installer.
The below table gives guidance of the price of the units. Please note that this is on a supply-only basis, and you would need to apply them following the simple application process as detailed above.
WHAT DO THEY COST?
WANT TO LEARN MORE OR PLACE AN ORDER FOR YOUR PREMISES?
To find out more about our protective film handles, don't hesitate to get in touch with us at this link, or by calling 0333 050 1130. https://www.greenfox.co.uk/contact/
Why is cleaning important in hotels? We are all more wary than ever about cleaning standards wherever we go since the discovery of COVID, and hotels are clearly no expections.
Regular guest changes, different people using showers and beds every day and paying a premium to stay all add to the guest experience.
Here are some truths about housekeepers in hotels which you may, or may not be aware of.
1. THEY'RE CONSTANTLY PRESSED FOR TIME.
Hotels have different housekeeping policies, but most maids are allotted 20 to 35 minutes to clean each standard room and up to an hour for a suite. Depending on the hotel, housekeepers may be assigned a list of rooms to clean or choose rooms to meet their daily quota, which typically ranges from 10 to 16 rooms dependant on the size of the hotel.
2. THEY MIGHT USE THE TOILET IN YOUR ROOM.
Although most hotels forbid housekeepers from sleeping or using the toilet in guest hotel rooms, some people inevitably break the rules. Exhausted staff who have more time than usual to clean a large suite may secretly catch a few minutes of shut-eye in a guest's bed. "Something else we do sometimes is that we use the toilets in the guest's bathroom, but only if we are super busy and don't have enough time to go to the staff toilets," a former housekeeper in Hampshire who didn't wish to be identified says. "It is something we are not supposed to do, but many do it anyway."
3. THEY ENCOUNTER SOME PRETTY HORRIFYING THINGS …
Horror stories abound among housekeepers are inevitable. Most have seen (or have coworkers who have seen) drugs, blood, vomit, sexually explicit materials, fecal matter, and even sadly found dead bodies. Despite there being strict regulations around the removal of hazardous waste, many hotels still make their staff clean up the bodily fluids and excrement that remain in a room without extra protective equipment. Although housekeepers are usually given extra time to deal with this type of extreme mess, it's never a pleasant part of the job.
4. THEY COMPETE WITH EACH OTHER FOR ROOMS AND TROLLEYS.
Besides feeling pressure from their supervisors to clean rooms quickly and keep on a tight schedule, some hotel housekeeping staff also vie with their coworkers. "The more senior [housekeeping] staff can sometimes make it stressful. They fight for the more expensive rooms or suites because better items are left behind for the taking if nobody claims them, as many hotels allow us to keep items found if not collected within 90 days" one housekeeper reveals. "They also fight to take the better trolleys, leaving myself and others with old ones that don't have the right products or supplies, meaning a lot more running around."
5. THEY SUGGEST YOU DON'T USE THE CUPS.
Although you've probably heard warnings about cups not being thoroughly cleaned and bacteria teeming on your hotel room remote control, hotel staff reveal that there's another item in your room that's rarely cleaned as well as it should be. "Not using the cups is my number one rule that I tell everyone," one anonymous housekeeper reveals. "I've definitely seen [other housekeeping staff] polishing glasses with the same cloth they just used to dust the room. I've never seen the toilet brush used but knowing some of the people I work with, it wouldn't surprise me in the slightest."
Don't let us put you off though - most hotels have extremely high levels of cleanliness. Did we mention that Green Fox Cleaning also offer support to hotels? Learn more at this link :
https://www.greenfox.co.uk/sectors/hotel-and-resort-cleaning/
Microfibre cloths or disposable cloths - which is best in a commercial cleaning setting?
The cloths are available in two forms — reusable or disposable / semi-disposable, and each has its own set of pros and cons.
Most commonly used certain pre covid were reusable cloths, which must be laundered after every use or so dependant on the task at hand. When handled and looked after correctly, these cloths can last 100 to 1,000 washes before needing to be disposed of and replaced.
Disposable cloths, on the other hand, are normally discarded after a single use, with only some slightly stronger being semi-disposable, meaning they may last for a handful of washes before the need to dispose of them.
Improper laundering of reusable microfibre cloths can cause shrinkage and damage to the cloths. Even more concerningly from a client's perspective, it can result in dirty cloths being returned to service or cross-contamination problems when cloths used for different areas (such as washrooms and kitchens) are washed together. You can learn more about cross-contamination at this link - https://www.greenfox.co.uk/cross-contamination-what-it-is-and-how-to-avoid-it/
What are the benefits of mircrofibre cloths?
Microfibre is a material that is made of synthetic fibres that attract dirt, bacteria, and other pathogens like a magnet. Microfibre tools are made to attract and capture up to 99% of dirt, bacteria and other pathogens, while cotton fibre tools are made to attract 33%- basically moving bacteria from surface to surface. Therefore, the use of microfibre cloths, mops, and other microfibre tools allow for the removal of bacteria, dirt and allergens, because microfibre is designed to attract and hold these elements.
In the two images below, the top image on the right shows the microfibre structure under a microscope.. The bottom image is a regular cotton structure which ultimately pushes dirt & bacteria around, rather than collecting it.
Why would you use disposable cloths then?
Many premises require the use of disposable cloths to prevent cross contamination, with hospitals, doctors surgeries, dentists and veterinary practices being the obvious choices. It would simply not be possible to clean all area thoroughly and have a large enough stock of microfibres, as well as being able to wash them after every use. Disposable clothes are very cheap comparatively and remove any risk of cross-contamination, being safely disposed of after each clean.
Post covid discovery, disposable cloths are often considered a more safe option in a number of settings where professional daily laundry is simply not possible.
At Green Fox Cleaning our knowledge allows us to select and place the most appropriate cloths at each and every site.
Commercial cleaning charges will vary considerably from company to company.
The cost quoted by any company will be dependant on a number of factors including, but not limited to, the following:
The level of training (or lack of!) provided to staff.
The quality of cleaning products and machinery provided
Measures in place for staff monitoring (GPS tracking etc)
24-hour client support line - are they there when you need them most?
How much they pay their staff - do they pay a fair wage or the minimum wage?
Do they even employ their staff directly or use self-employed people?
There are of course many more factors that will influence the price that a company charges per hour. Another consideration is the time taken - a company with highly trained staff and the best products could be one and a half to two times more expensive, but may do the job in half the time, and far better. It isn't always as simple as picking the cheapest hourly rate.
It is not possible to emphasise enough that when selecting a commercial cleaning company, that you should consider the value of the service being offered, and not the price alone.
To find out more about the services offered by Green Fox Cleaning and the value offered, get in touch today to find out more.
TUPE and cleaning contracts s is a very important piece of legislation that everyone should be aware of that employs cleaners directly, or those that engage a cleaning company to provide their services.
What is TUPE?
TUPE relates to a piece of legislation called Transfer of Undertakings and Protection of Employment regulations. It is designed to protect the roles of workers when there is either a business transfer, or a transfer of services. It is the latter that is relevant to contract cleaning services.
So in simple terms, if you have a cleaner cleaning your premises, they may have a legal right to stay in that role, even if you change cleaning company. This is if the cleaner is employed mainly or wholly on the contract at your premises. Whether you employ the cleaner directly or they are employed by a company that provide your services, TUPE will still apply.
But I don't want the same cleaner - they are rubbish!
This is something that we hear more often that you could imagine. Companies even think it isn't worth changing company if they are stuck with the same cleaner, but just in a new uniform. The reality is that this couldn't be further from the truth. There are are very few people that are simply unable to clean well, as long as they are given full training, support and are motivated in their role.
At Green Fox Cleaning, here are two such examples of when TUPE has worked well.
Brasserie Blanc restaurant, West Sussex - We took on this contract in 2016 from another contract cleaning company. The venue reported they never saw a manager, and cleaning standards were poor. We re-trained the staff, paid them a fair wage (they were on the minimum wage) and this was the feedback from the general manager just one month later:
"Hi guys. I cannot believe the transformation with our cleaners since you have started - I would never have believed they were the same cleaners!"
2. Dental surgery group, Hampshire - We took this contract on in 2020. There were two cleaners in place who were very good at their job, but demotivated by their previous employer due to again being on minimum wage, and never getting cleaning products they needed to complete their role properly. Below is feedback from the practice group manager:
"Can I just say a big thank you, it is such a relief to have an efficient company looking after our cleaning needs and I know Tracy and Charlie are much happier working for you now. The proof is how little we have to communicate with you!"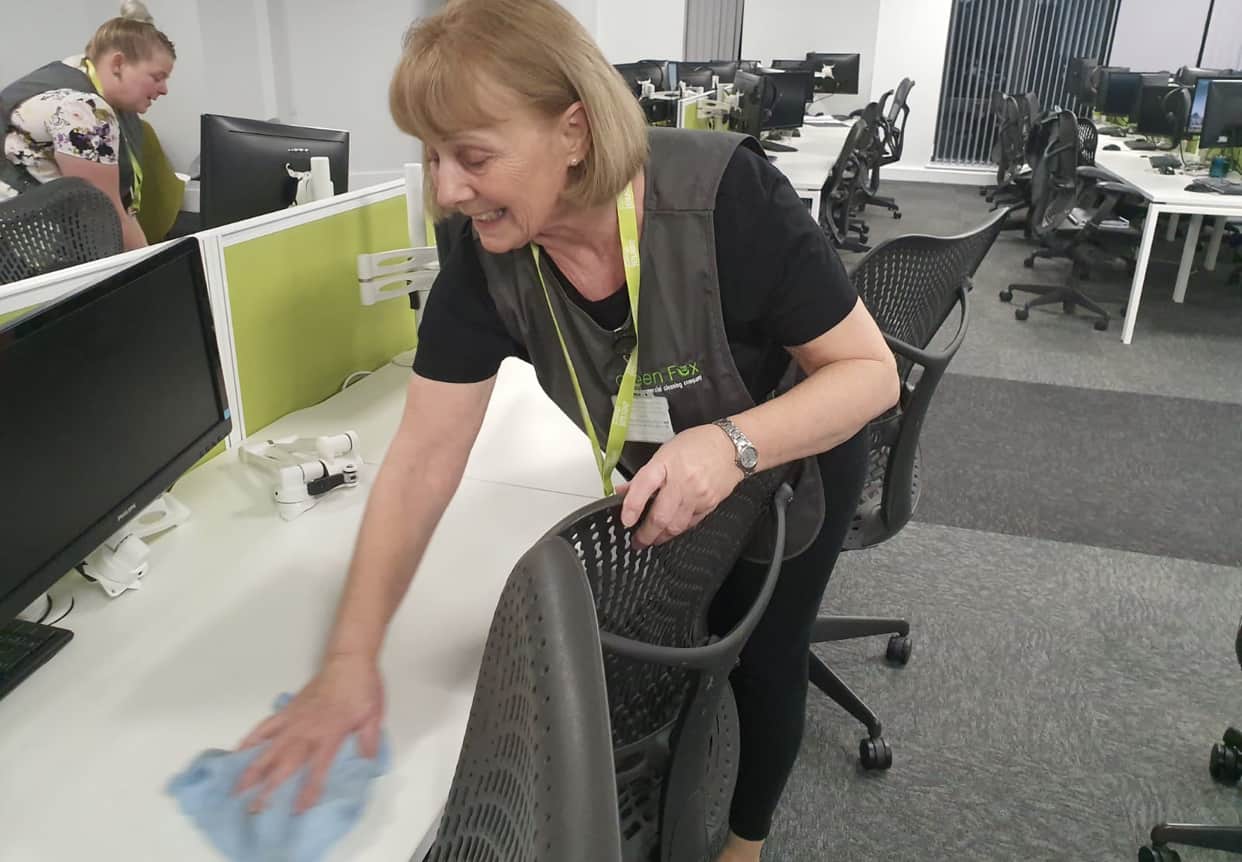 What happens if I engage Green Fox and the cleaner is still rubbish?
It would be naive to say that every cleaner will transfer and improve with training, as some people simply don't like work and may be completely resistant to change. If this happens, we have strict disciplinary process in place to manage such individuals and they will ultimately be dismissed if they cannot deliver the highest standards that we expect for all clients after we have fully supported them and worked with them to improve them.
The average fine at tribunal for breaches of TUPE is £10,000, PER EMPLOYEE! This is for both you as the client, and also for the cleaning company. This is not a piece of legislation to take lightly!
Are there ways around TUPE?
TUPE is a piece of law and must therefore be adhered to. There are however occasions where a transfer will not be necessary. Our experienced HR team ensure that we work to comply with TUPE in the most efficient and satisfactory way for all clients.
You can learn more about TUPE from this link at the Government website: https://www.gov.uk/transfers-takeovers
Do commercial cleaning companies in England charge by the hour or square footage of premises?
This will vary from company to company, however generally a cleaning company should give you an idea of how long a clean is expected to take each visit, and you should be able to work out an approximate hourly rate from this.
Remember that how long it takes a commercial cleaning company to complete a clean at your premises each visit will be dependant on a number of factors, including:
The level of training the cleaner has received
The quality of products and equipment provided by the cleaning company
The clarity of the cleaning schedule.
It is therefore important that you should consider the value of the service, rather than simply the price.
Consider that a cleaner with a powerful cordless vacuum cleaner is likely to complete the cleaning of floors far quicker than a cleaner provided an old one with a short cable, in probably less than half the time. So it is probably worth paying a higher hourly rate for less hours, for a better result in this scenario.
Whilst some services such as carpet cleaning are generally based on the square footage of a premises, commercial cleaning of premises has far more variables and will normally be based on an hourly rate or "visit" price unless the premises is extremely large, where an average cost per square foot may be charged.
Always be cautious of quotes that are based on a "job price" and aren't open and tranmsparent about what you are getting. It is good to know what time you are paying for in terms of hours, and to know these hours are being fufilled.
At Green Fox Cleaning, our advanced GPS system ensures that our clients get the time they pay for, every visit.
"What is included in commercial cleaning?"
We are asked this more often than you could imagine when providing quotes to clients.
The answer?
"Whatever you want" (within reason of course!)
The benefit of engaging Green Fox Cleaning for your commercial cleaning requirements is that every single quote and service is bespoke and tailored to the client to meet their requirements and fit within their budget.
If you consider the number of different sectors that we operate in, it would simply be impossible to have a standardised cleaning schedule.
For example, the needs of an office are very different to those of a gym, to those of a pub.
Standard cleaning duties will often include the following:
Vacuuming / mopping of floors
Cleaning of toilets and re-stocking soap and toilet roll
Cleaning of kitchen areas
Sanitisation of door handles and other high touch points
Emptying of bins
Cleaning of internal glass to remove obvious marks
High dusting to remove cobwebs
Less common but perfectly acceptable cleaning duties may include the following:
Open, clean and reassemble coffee machines
Clean gymnasium machines
Clean saunas and jacuzzis
Clean golf course driving bays
And so on....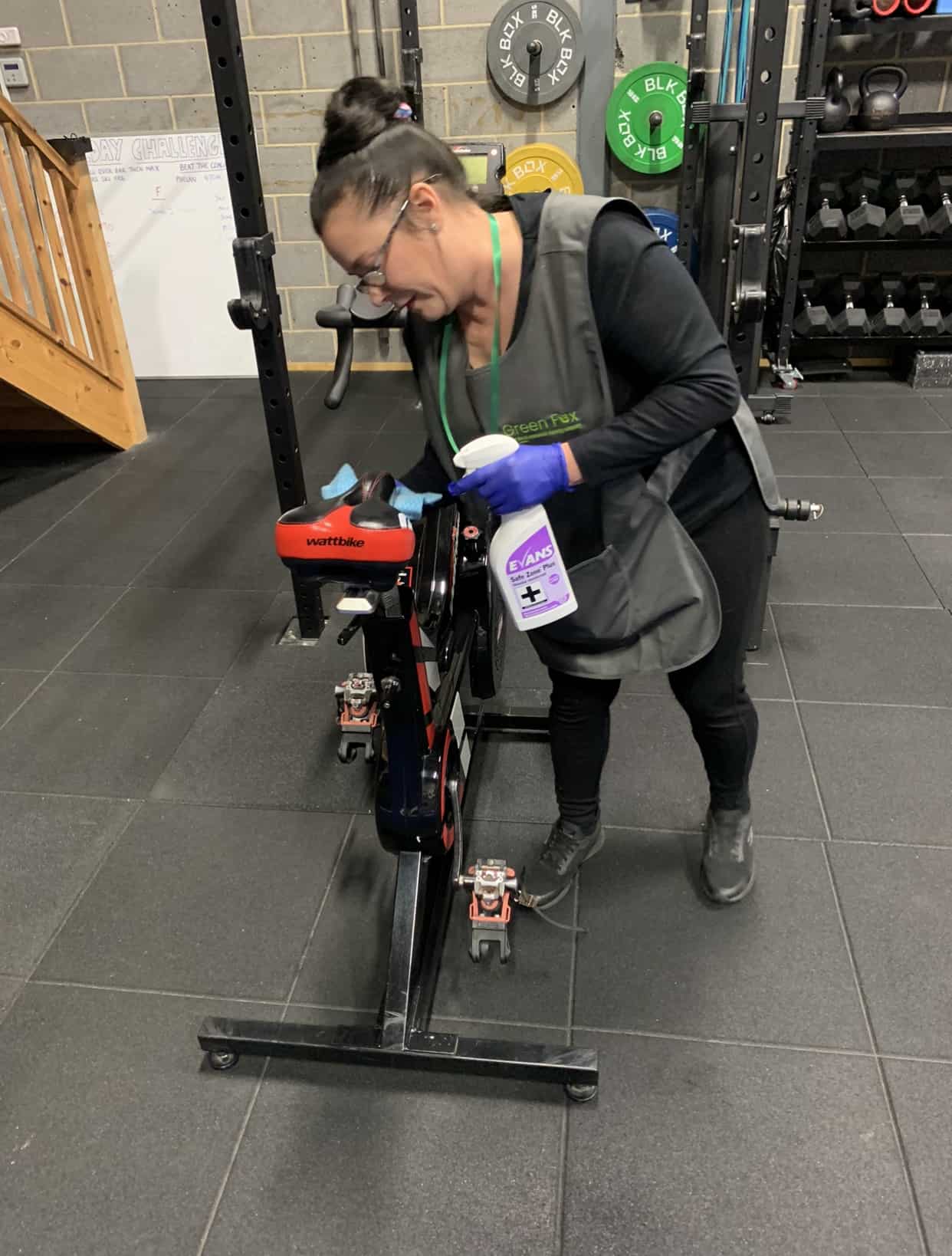 You get the idea, that the possibilities of commercial cleaning schedules are almost endless.
Any good commercial cleaning company should make your wish their command and meet your requirements, as long as the requests are reasonable and not dangerous - for example expecting a cleaner to balance over a hot grill to clean a cooker hood!
To find out more about our commercial cleaning services, visit this link to find out more:
https://www.greenfox.co.uk/services/commercial-cleaning-services/
Do you know whether cleaning teams in England need to be licenced?
In a nutshell, no.
However, the standard of training, level of knowledge and level of service will vary considerably. There are some basics that a cleaning company must have to be able to operate legally, which will protect you as the client also.
As a minimum, any cleaning company should have:
Public liability insurance
COSHH (control of substances hazardous to health) information on sites
Risk assessments and method statements held on sites
At Green Fox Cleaning, we go far beyond this. Full training by our in-house British Institute of Cleaning Science team ( https://www.bics.org.uk/ ) around the correct processes of cleaning, safe handling of chemicals and risk assessment are just the start.
We invest in our staff and their training. This investment doesn't go unnoticed, with great staff retention rates and staff taking real pride in their work as professional trained workers.
Every site we work at will have the following as a minimum:
Full site folder with cleaning schedule, risk assessments, COSHH data sheets, method statements and more
The most efficient cleaning chemicals and equipment
A dedicated, motivated cleaning operative!
To find out more about how we can help improve the appearance of your business with ours, get in touch using the below link for a no obligation quote today!