The importance of cleaning key areas in a pub
Cleaning key areas of a pub are key in keeping customers coming back through your doors, time after time. Pub cleaning should be a priority for every licenced premises owner.
A clear and detailed cleaning schedule brings routine, sets expectations for the staff and ensures your customers always have a pleasant environment in which to spend their leisure time, resulting in them coming back time and time again.
15 seconds is all it takes...
For a customer to decide if they wish to stay and spend time at your premises when walking through your door. If their first step inside your pub results in them nearly losing their shoes due to the floor being so sticky, they are likely to do a very quick about turn and exit! Learn more about preventing sticky floors at your pub by clicking here.
Unclean entrances and unpleasant smells are very off-putting for most businesses, but especially in a pub, where people come to eat, drink and socialise.
Making your pub cleaning checklist
There are numerous ways for you to assign cleaning duties and tasks to different members of staff. This may be based on their shift time, the area of the venue they work in, or their level of experience.
A clear check off list completed by a duty manager is a simple yet highly effective way to ensure that your expected cleaning standards are being met day after day, and that all key areas are being cleaned.
7 key areas to clean in your pub every time
There are more than seven key areas to clean every day at your pub to keep customers coming back for more, but these are the 7 key areas we recommend you focus on:
| | |
| --- | --- |
| KEY AREA TO CLEAN | REASON AREA IS KEY |
| 1. All entrance areas to your pub | You don't get a second chance to make a good first impression! Most of us have walked into a pub, looked at our group and turned right back away, or not even entered. |
| 2. All floors throughout your pub | There is nothing worse than your feet sticking to a hard floor, or a heavily soiled and smelly carpet. Keep these areas clean to keep customers coming back for more! |
| 3. All toilets | We have all been in pubs where toilets are full of cobwebs, doors don't lock, floors are dirty and they stink - don't let your venue get known for this reason. |
| 4. Ensure all tables and chairs and clean and sanitised | More than ever now, people want to feel safe in your venue. Sitting a clean and cleary sanitised table and chair arrangement is a great starting point. |
| 5. Keep your lights looking great | Lights by their very nature are focal points and attract attention. If customers look at them and see them thick with dust or cobwebs, it will instantly make them question how clean the rest of your pub is. |
| 6. Keep ledges dust free | Most pubs have ledges next to tables and bench seating which is typically at eye height - keep these looking great when customers are looking around your venue. |
| 7. Bar area and behind the bar | When customers order a drink at a bar, they don't expect to see a selection of dusty bottles of spirits and a bar area. They also much like sticky floors, don't want their arms sticking to the bar if leaning. Keep these areas looking great at all times. |
7 key areas to deep clean in a pub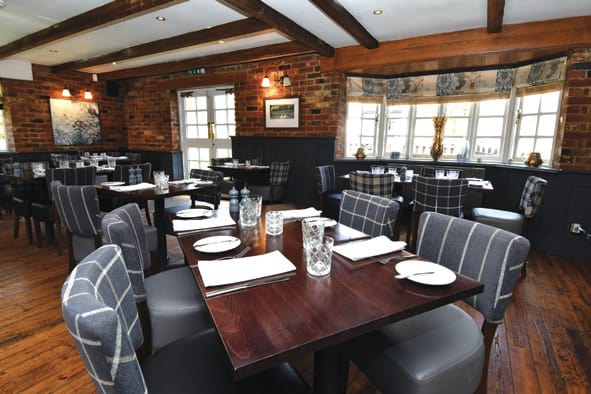 The best way to ensure that key areas of your pub are cleaned properly every day is to hire a professional cleaning company to take care of your needs. To find out more about our work in cleaning pubs and request a free, no obligation quote, simply click here to learn more.
You can learn more about the general history of pubs by clicking here.
The importance of keeping office equipment clean
More than ever, the need to keep office equipment clean should be at the forefront of our minds.
With the spread of bacteria, viruses and the prevalence of coronavirus, we must all take personal responsibility to keep office equipment to protect both ourselves and others around us.
Common objects in an office environment are hotspots for germs and microorganisms to grow on. Having a daily cleaning and disinfecting routine can greatly diminish the risk of illness spreading throughout the office.
Ten top office equipment items to clean
The list could go on and on, but these are the ten office equipment items that we feel you need to ensure are cleaned on a regular basis.
Office desks - you spend most of your day at one, so you want it looking clean, and being hygenic. Clean your office desk daily to keep yourself as safe as possible.
Computer and keyboard - you touch this all day, every day. Sanitise is regularly, and complete a visual inspection of all cables when doing so to ensure there is no fraying.
Telephones - much like your keyboard, these are a high risk area for harbouring germs. Sanitise these regularly throughout the day if used by multiple employees.
Photocopiers - Again, touched by many people and require regular cleaning and sanitisation to keep looking great and working well.
Staplers - Easily forgotten, but the hard surface will harbour germs if not regularly sanitised.
Office chairs - Ensure you clean office chairs on a regular basis, especially those used by multiple people.
Water dispensers - Ensure you sanitise the tap button on a regular basis, as they will be touched by numerous people throughout the day.
Kitchen appliances - Kettles, microwaves and most kitchen appliances are touched by multiple employees throughout the door. Ensure these are cleaned and sanitised daily, and visually check cables for any fraying.
Office mugs - can be amongst the worst offenders. Personalised mugs can help reduce the risk of cross contamination.
Door handles and light switches - Can harbour any number of germs. They should be sanitised at least daily, and ideally throughout the day.
Four great benefits of keeping office equipment clean
Extend the lifespan of equipment
It's obvious when you think about it, but office equipment that is well looked after will last longer than equipment that is neglected. A regular office equipment clean schedule will save your company money in the long run, reducing the need to replace expensive equipment so frequently.
Regular cleaning of office equipment also means it will be looked at closely more often, meaning any minor defects can be spotted early, preventing it to worsen over a period of time.
Reduced workplace sickness
Not only will employees remain healthy and happy if their equipment is clean and obviously cared for, there will also not be a loss of productivity in the business caused by many employee sick days, resulting in a more productive office. There will also be cost saving associated with a reduction of the number of sick days within your company throughout the year.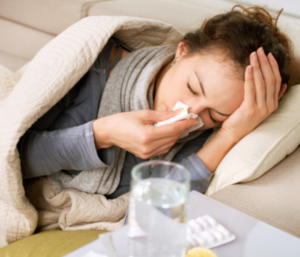 Give a better impression to visitors as well
Most of us have visited an office where computers look dirty, discolored and generally neglected. This image can make us think that the company have a similar attitude in all aspects of their business, even if this isn't the case. When an office equipment clean schedule is implemented, it will make your workplace more aesthetically pleasing to all.
Compliance with health and safety legislation
Health and safety laws are in place within the working environment to keep everyone safe and healthy. The health and safety executive (HSE) provide clear guidance on expectations with regard to safeguarding measures that office should undertake.
So, how do you keep office equipment clean?
Well there are plenty of ways to make sure your office equipment is kept clean. The most obvious thing to do is to hire a good commercial cleaning company, and if your budget allows then this is definitely recommended.
Also, don't forget to consider other areas of the office on top of your office equipment clean and office area. Your desk and computer might be gleaming, but if the kitchen or washrooms are still dirty and full of germs, you still have an increased risk of staff absence.
At Green Fox Cleaning we are experienced with all areas of office equipment cleaning, as well as office cleaning. Click here to learn more about our office cleaning services, and how we can help improve the appearance of your business with ours.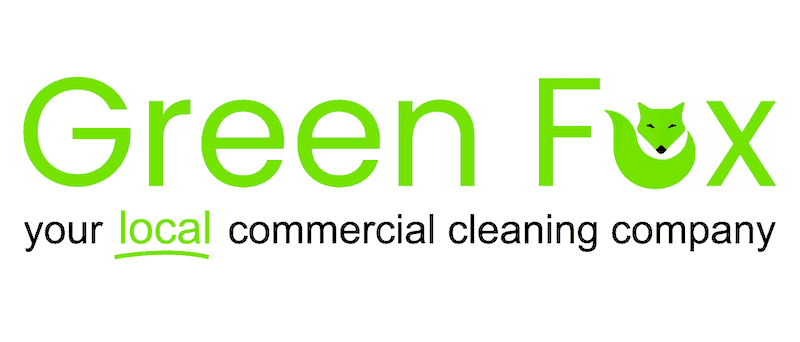 What are the 3 categories of cleaning?
Do you know what are the 3 categories of cleaning in the commercial cleaning sector are? Or did you even know there are three main categories?
There are many more if we consider window cleaning, carpet cleaning, upholstery cleaning, high level pipe cleaning etc, but this article is focusing on the main 3 categories of cleaning in a commercial cleaning setting.
Understanding the core commercial cleaning options allows you to understand which option will work the best for your business.
Daily cleaning services
The first of the 3 categories of cleaning in the commercial sector is daily cleaning. Daily cleaning services are the most common cleaning choice for larger companies, and those that treat cleaning in their workplace extremely seriously.a
If you need a regular clean for your office, restaurant, casino, gym or venue in any other sector, then you should be considering this option of commercial cleaning service.
Daily cleaning services are often required by businesses with a large capacity and high foot traffic throughout the day, especially those having high numbers of visitors and clients through the door.
Cleaning on a daily basis ensures you create a great first impression to anybody walking into your venue and give the perception of a professional, clean and safe business.
The exact tasks completed as part of a daily cleaning will vary depending on what sector you operate in, but will generally include the following:
Cleaning of all floors, both hard and carpet
Cleaning of office desks / restaurant tables
Cleaning of gym equipment in the leisure sector
Emptying of rubbish and recycling bins
Sanitising door handles, light switches and other touch points
Cleaning staff and public toilets, and replenishing soap / hand towels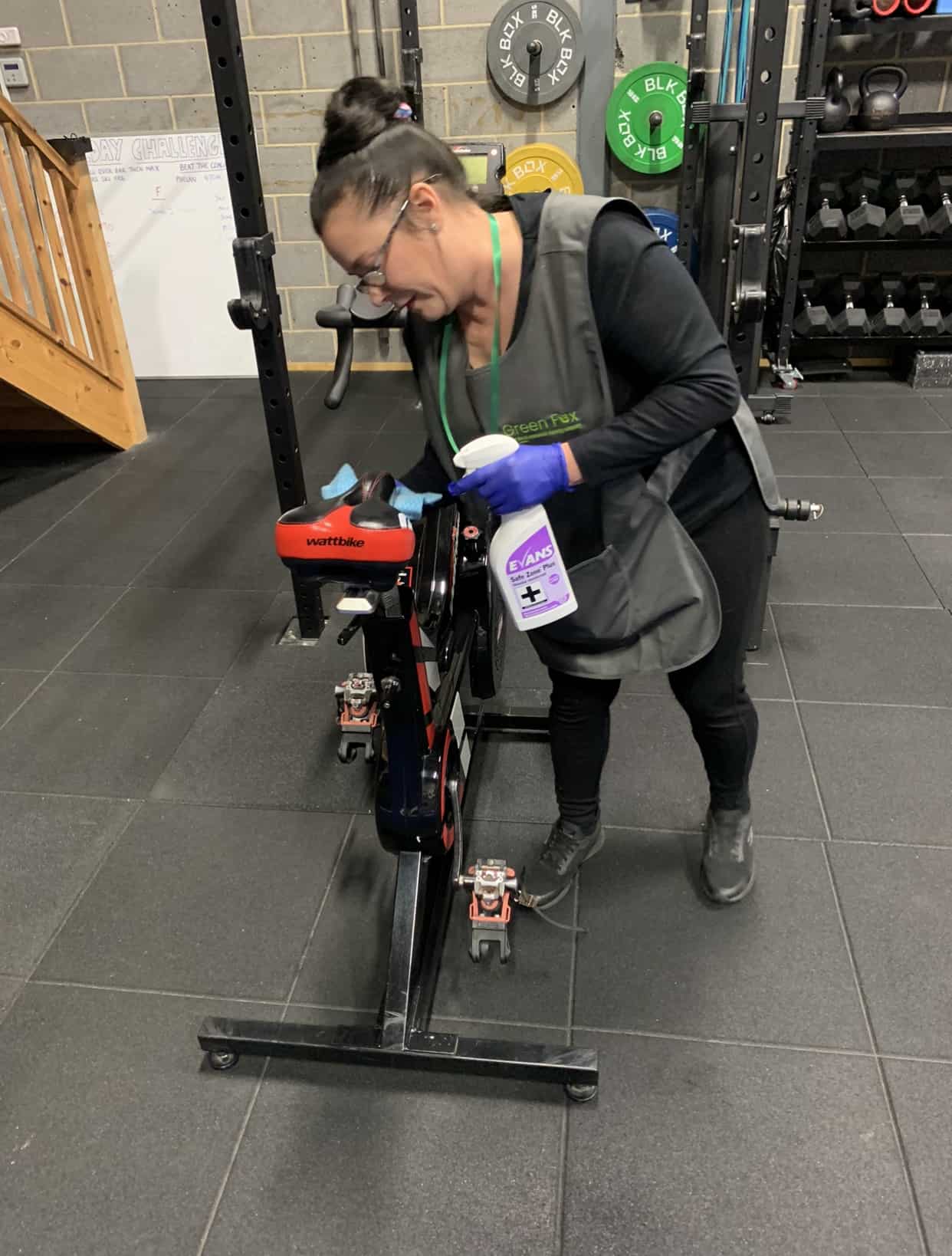 Periodic cleaning
The second of the 3 categories of cleaning in the commercial sector is periodic cleaning. This type of cleaning is ideal for a smaller premises with few or not visitors that does not require a daily cleaning service.
Just like daily cleaning, however, the services provided are the same and a clear schedule should be provided to ensure all cleaning tasks are completed to the required standard.
When creating a periodic cleaning schedule, a business must take their requirements into consideration and consider what is important for them.
At Green Fox Cleaning we clean a number of premises on periodic basis. The frequency of this varies generally from one to three visits per week.
Periodic cleaning is often beneficial for smaller offices that do not have as many visitors and staff using them each day. They are also good for an industry that does not have regular visitors to an office.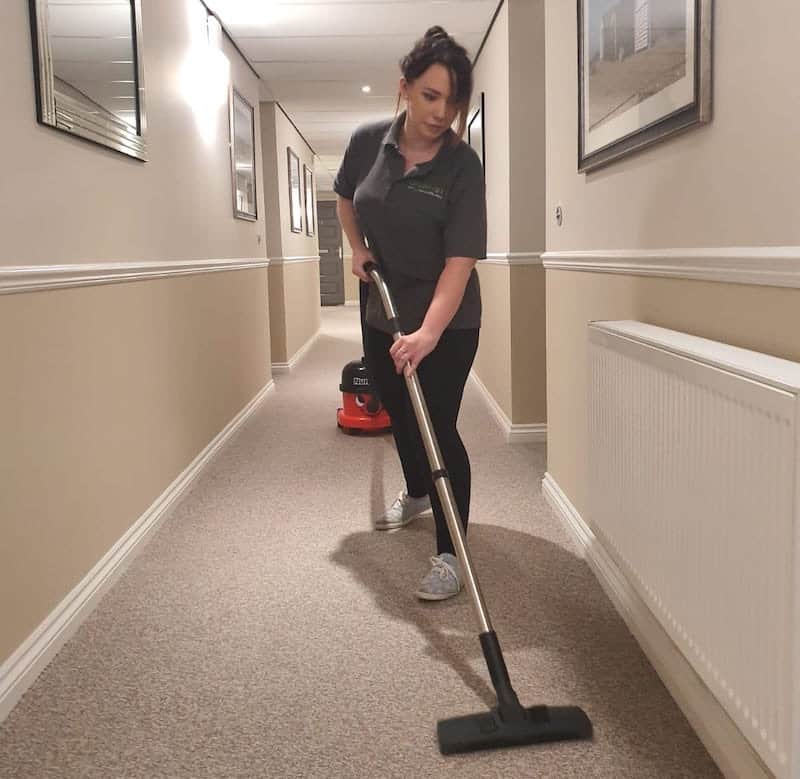 Deep cleaning
The final of the 3 categories of cleaning in the commercial cleaning sector is that of deep cleaning.
A deep clean is performed by a specialist team of cleaners using the latest methods of cleaning and equipment, in order to achieve the best result.
Deep cleaning is undertaken when the level of cleaning is beyond that of daily or periodic cleaning, or when the task is more specialist and requires more specialist equipment, such as electrostatic cleaning in the case of viral outbreaks at premises.
A deep clean not only drastically helps improve the appearance of a business's premises and assets, but it can also prolong their life.
Deep cleans will take a lot longer than regular cleaning services, with a far higher level of detail being applied to the clean.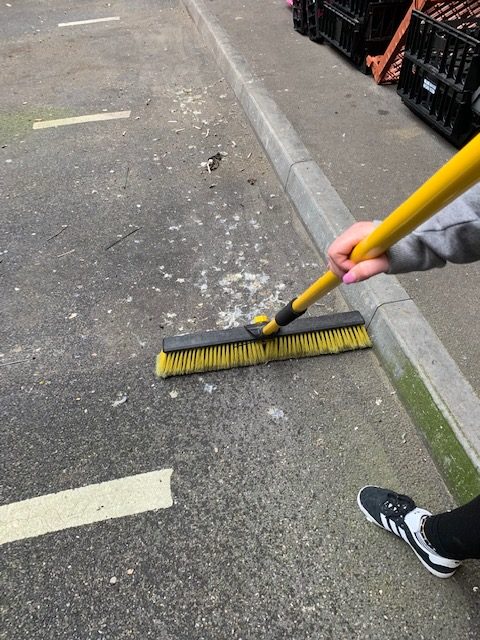 Green Fox Cleaning provide all 3 categories of cleaning detailed in this article, and many more specialist services including carpet cleaning and window cleaning. Click here to learn more about Green Fox Cleaning, and request a free, no obligation quote for your premises.
There are many, many other categories of cleaning. Wikipedia has compiled a full list which can be seen by clicking here if you have some time to pass!
Office deep cleaning checklist - what is an office deep clean?
When working in your office, you want to know that it is clean as possible, and therefore as safe and hygienic as possible. This is more important than ever since the discovery of Coronavirus.
In comparison with regular office cleaning duties, an office deep clean is more comprehensive and time-consuming. The deep cleaning service should include more detailed and demanding cleaning tasks that are rarely included in regular cleaning, including tasks such as:
Cleaning and vacuuming blinds, windowsills and behind radiators
Cleaning inside and behind the fridge and other appliances
Detailed cleaning of walls to remove marks
Detailed cleaning of all internal glass office divides
Professional carpet cleaning services
Detailed cleaning of all wall tiles in washrooms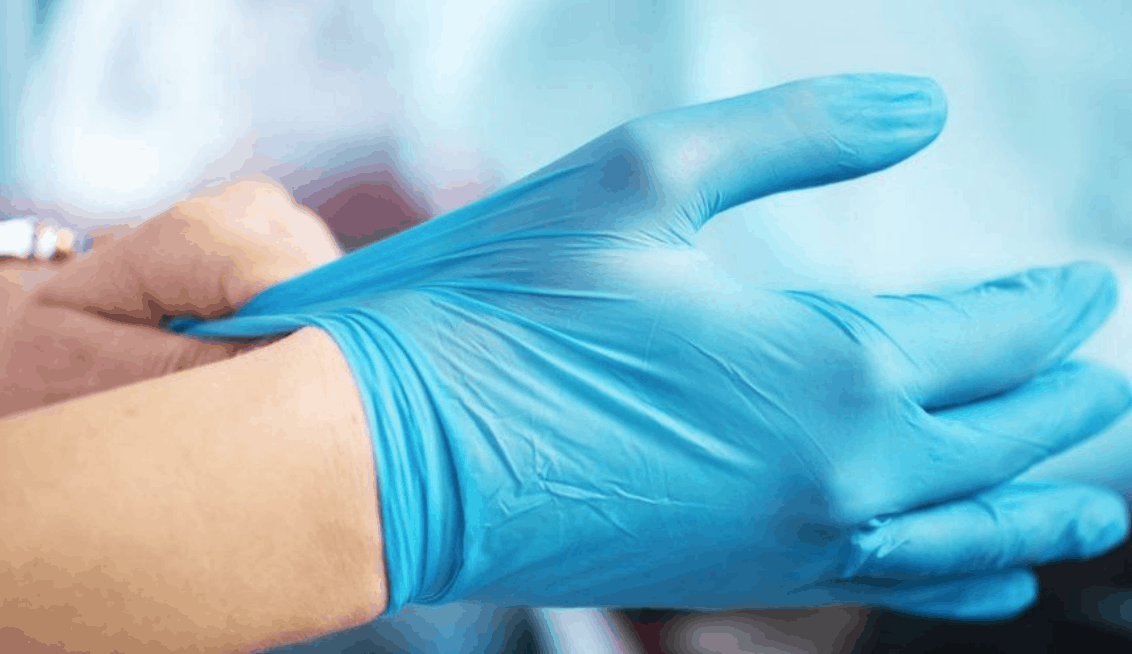 How Often do offices need deep cleaning?
In general, deep cleaning services are recommended ideally every quarter, or as a minimum every six to twelve months if you want to make sure your office space is immaculate.
The exact required frequency will depend on the number of employees and visitors, and the type of your business. An office deep cleaning checklist should detail exactly what you should expect to achieve from the clean.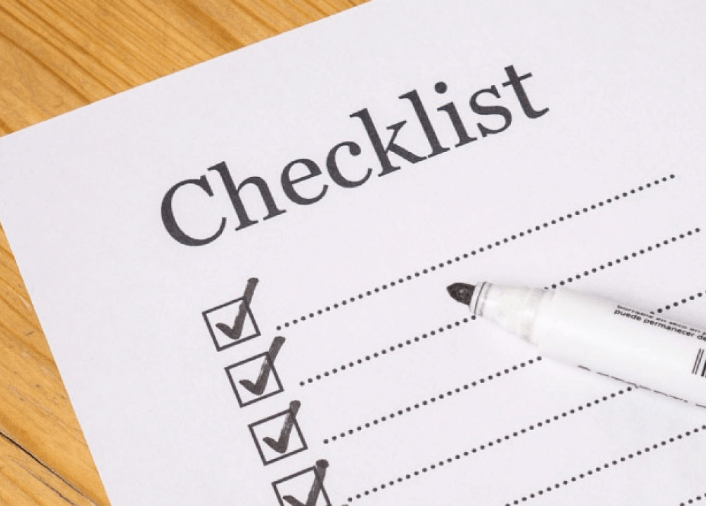 In addition, many business owners book deep cleaning services in special circumstances, such as important visits from business partners or after hosting an office party.
In any case, you should book office deep cleaning services every time you notice that regular cleaning doesn't do the trick anymore or if you're hosting an important event at your office.
Is it time for me to arrange an office deep clean?
If you are a business owner, you probably already know how important maintaining a safe and healthy office is to ensure the smooth running of your business, and the associated benefits that a clean workplace brings.
But how do you tell if your workspace is clean enough? Have a walk around your premises now and check the following:
Office deep cleaning checklist
All ceilings paying particular attention to corners and stairwells - can you see any cobwebs?
Are radiators clean and free of dust and grime build up from spilt drinks etc?
Are door frames dust free?
Are the insides of kitchen cupboards clean?
Are chrome taps free and sinks free of limescale build up?
Look under desks in the hard to access areas - are they clear of debris?
Can you see obvious marks on walls in your office, or on glass wall divides?
Check your kitchen area - how clean is the inside of the fridge?
Check your toilets - do the walls and behind the toilets look clean?
How are your carpets looking? Are they tired and stained?
The above are just a guide as to some areas. If engaging the services of a good commercial cleaning company, they should be able to look to much greater detail, and generate an office deep cleaning checklist for their staff to follow.
We hope that the points raised in this post will help you to create your own office deep cleaning checklist.
The easiest way to ensure deep cleaning is completed when needed is to hire the services of a commercial cleaning company who can schedule this in addition to regular office cleaning services. The time saved far outweighs the cost and they have all the tools and specialist equipment needed to be able to do a top quality job. They will have an office deep cleaning checklist to ensure all required areas are cleaned thoroughly.
To find out more about how Green Fox Cleaning can help improve the appearance of your business with ours, click here to learn more.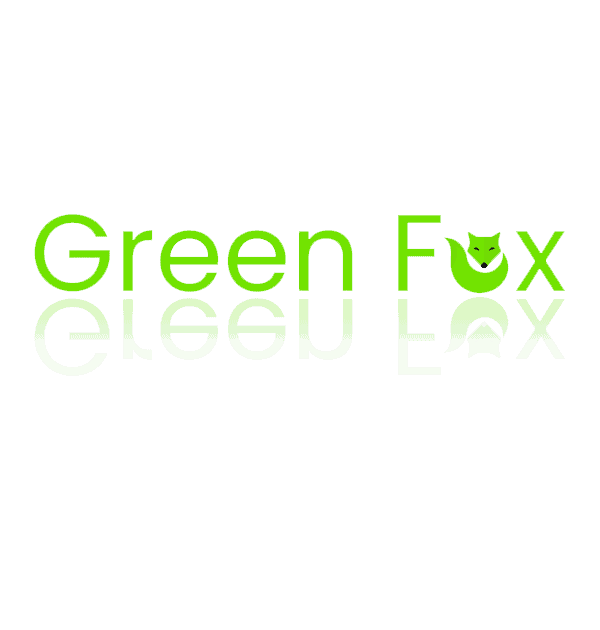 How to clean a stainless steel refrigerator
All of us have a fridge, with an ever increasing number of them being stainless steel. They look absolutely stunning when new and when they are cleaned, but can quickly lose their wow factor when subject to greasy fingers leaving marks on them, and other smears and dirt.
A firm fixture in both the home and work environment, it is one item that we really should know how to keep clean, as it is actually not as hard to do as you may think.
The purpose of this short article is to teach you best best way to clean your stainless steel fridge, with minimal effort and no need for chemicals.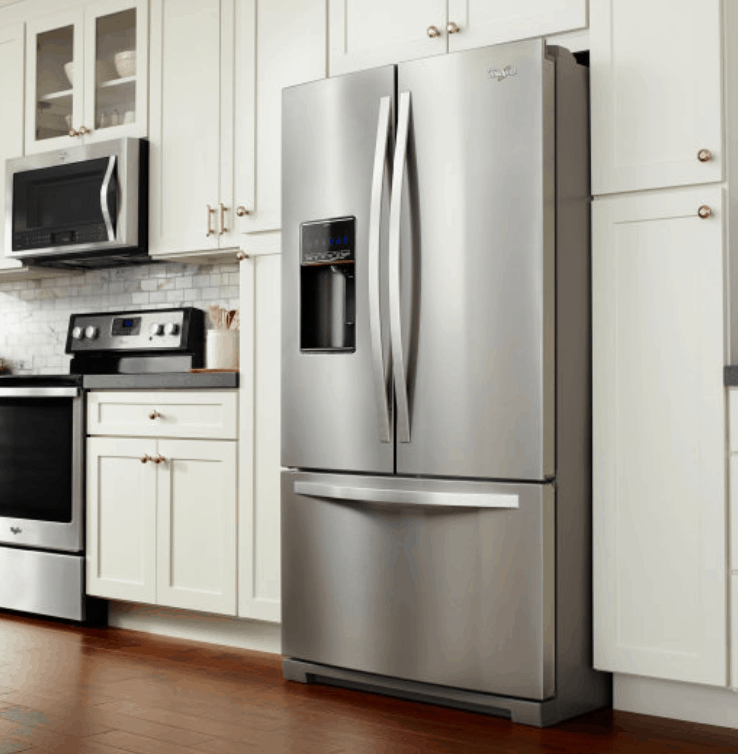 What is the best product to use to remove marks?
Believe it not not, the best option when it comes to cleaning stainless steel is simply washing up liquid and warm water! Washing up liquid is a degreaser which will really help when cleaning stainless steel.
If it comes to wanting to do a deeper clean to really bring the shine back, then you will need to use a specialist stainless steel cleaning products. We would recommend something such as Weiman stainless steel wipes, which come highly regarded and provide a long lasting shine after buffing.
Method to clean a stainless steel refrigerator
The process of cleaning your stainless steel fridge is surprisingly straightforward you will be pleased to know.
Using a clean microfibre cloth, soak the cloth in the water and washing up liquid mixture and then wring out so it is damp, not wet.
Rub the cloth onto the marks in small sections, going with the grain of the appliance. Rinse afterwards with clean hot water only, and dry immediately with a clean cloth.
Regardless of what kind of stainless steel cleaner you're using, make sure to wipe the cleaner in the direction of the metal's grain - streaks are caused by wiping against the grain!
In summary
We hope you have found this short guide on how to clean a stainless steel refrigerator useful, and it has made you realise that strong chemicals aren't needed in many cleaning tasks including this one.
Green Fox Cleaning are a commercial cleaning company that provide cleaning services to businesses of all sizes, and in all sectors. Click here to learn how we can help not only improve the appearance of your fridge, but of your whole workplace.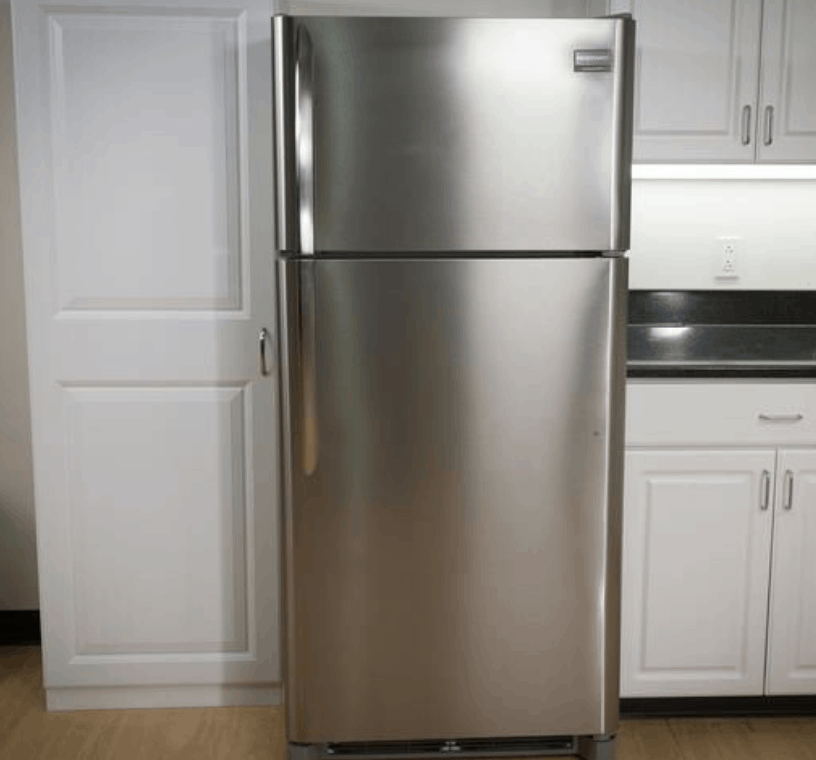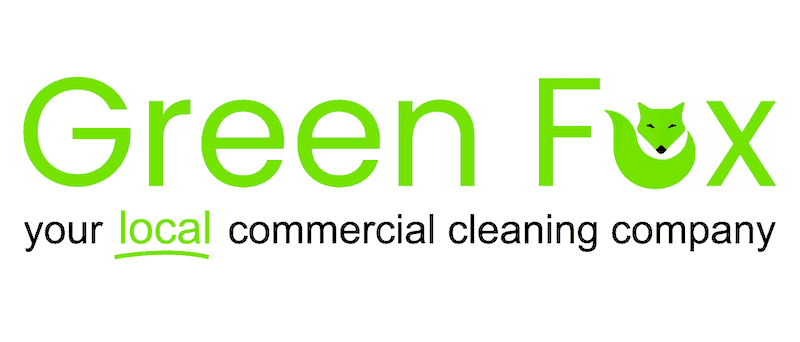 How to clean office mats and walk in welcome mats
When it comes to the first impression a visitor gets of your premises, it may well be that is when they first step on your welcome mat.
A dirty welcome mat that has clearly not been looked after can easily send out the wrong impression to visitors, who may assume your your standards of cleanliness around the rest of your premises are to a similar standard.
The build-up of tough dirt, grit and debris trapped in your office mats pile will need to be removed.
Regular vacuuming is essential for the removal of dry soil from carpet entrance mats both internal and external office mats, to retain a smart appearance. If ignored, dirt particles can be trodden deeper into the mat's fibres crushing the pile, while becoming sharp, gritty and potentially damaging. This makes cleaning more difficult and matting itself dull in appearance and less effective.
As part of your daily cleaning routine, entrance mats should be thoroughly vacuumed at the end of each day. Vacuum both horizontally and vertically on the mat to ensure that all debris is removed on office mats in high footfall areas. In lower footfall areas, vacuuming office mats in one direction should be sufficient.
Ensure that your vacuum strokes are in a systematic, overlapping system to ensure that all areas of the mat are vacuumed fully.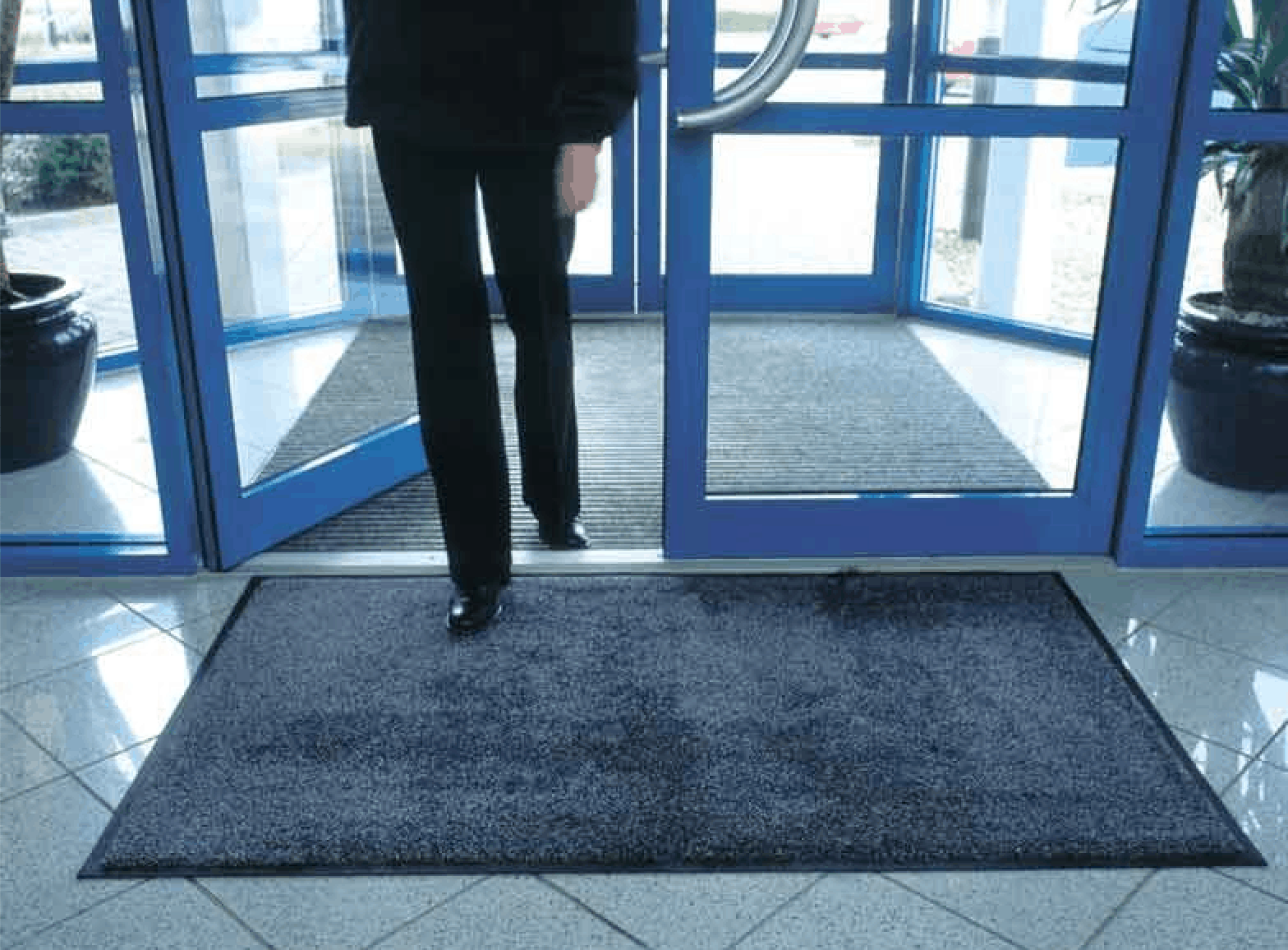 If your mat is looking grubby and needs a bit more care to make it look great again, the following tips should help:
Rubber mats can be cleaned deeper through the use of either a damp cloth on your hands and knees, or the use of a mop and bucket. Just make sure the mope is damp and not too wet.
Internal material mats including welcome mats may need the use of a carpet cleaning machine if they can't be cleaned through a washing machine, to give a deeper clean and restore the mat to its former glory.
How to clean office chair mats
Available in a variety of styles, office chair mats are normally there to protect the carpet in your office. The wheeling of the office chair around them all day, along with spillages such as coffee can make them look grubby, very quickly.
The easiest way to clean plastic and similar material office chair mats is to simply mix some washing up liquid with warm water and use a damp cloth to wash both sides of the mats.
You can use a small brush to clean off stubborn dirt and stains or to clean the spikes on the underside of the carpet chair mats. Be careful not to rub too hard with the brush or you might damage the cleats, and be sure to dry the mat off afterwards to prevent smells, especially with the underside when replaced.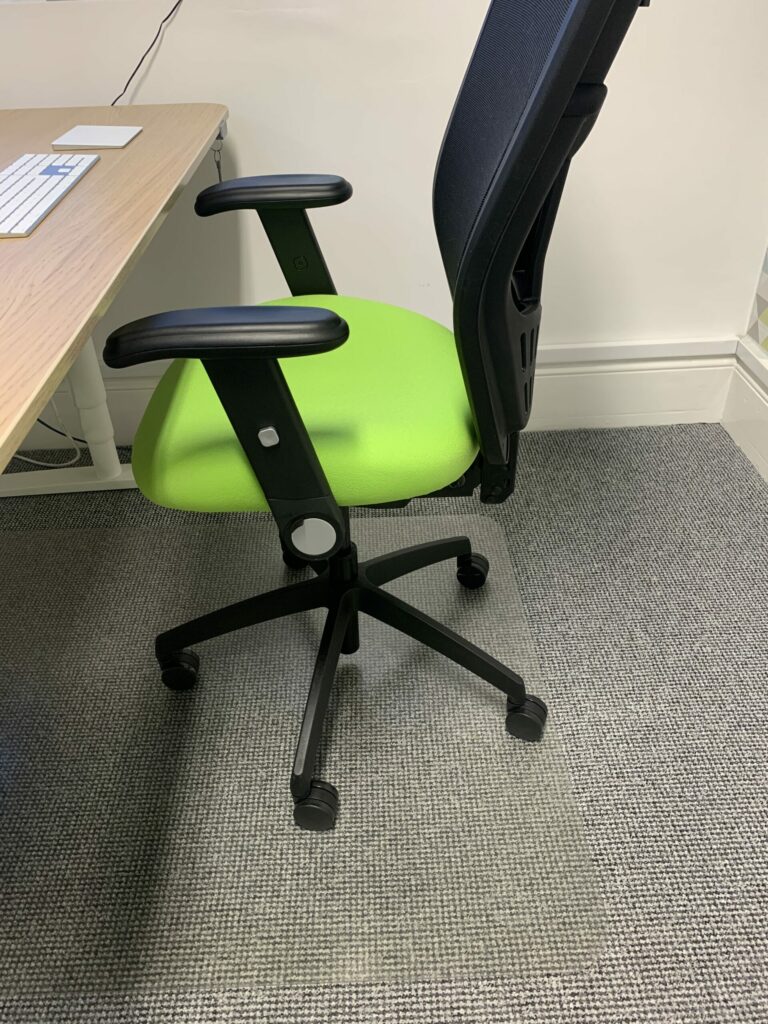 DID YOU KNOW?

The ideal temperature for office chair mats is between 60 and 95 degrees Fahrenheit so don't use them in areas that are colder or hotter for the best results. If your office is near a window where direct sunlight shines in, use blinds or curtains to keep the sun from damaging the mats and the risk of them fading. It is also highly recommended that you don't use office chair mats in areas where moisture is present to reduce the risk of mold and mildew from forming that can cause serious health problems over a prolonged period of us.
The best way to keep your office mats clean along with the rest of your office premises is to engage the services of a good commercial cleaning company. Click here to find out more about Green Fox Cleaning and our work in the office cleaning sector.
You can learn about the history of mats on wikipedia by clicking here.
Office areas where germs grow
As an employer, manager or employee, it is essential that you are aware of office areas where germs grow. This will allow you to keep your staff and visitors as safe as possible.
Have you noticed how easy it is to pick up germs in your office and how often colds and other viruses spread round the entire office? Whether they're brought in from home or public transport, work is a great place for sharing bacteria and viruses.
Germs spread quickly from one person to the next, from stomach-churning food poisoning bacteria such as Salmonella and E coli, to viruses including coronavirus, colds and flu.
The micro-organisms that carry and cause these illnesses don't normally multiply on your desk or chair without help. They don't move around unless we do. So, we're all responsible for transferring germs from one person to the next and need to be aware of this, now more than ever.
To fight back, beat the germs and take control of your health in the workplace, you need to tackle the most touched areas in the office and the areas where germs grow the fastest.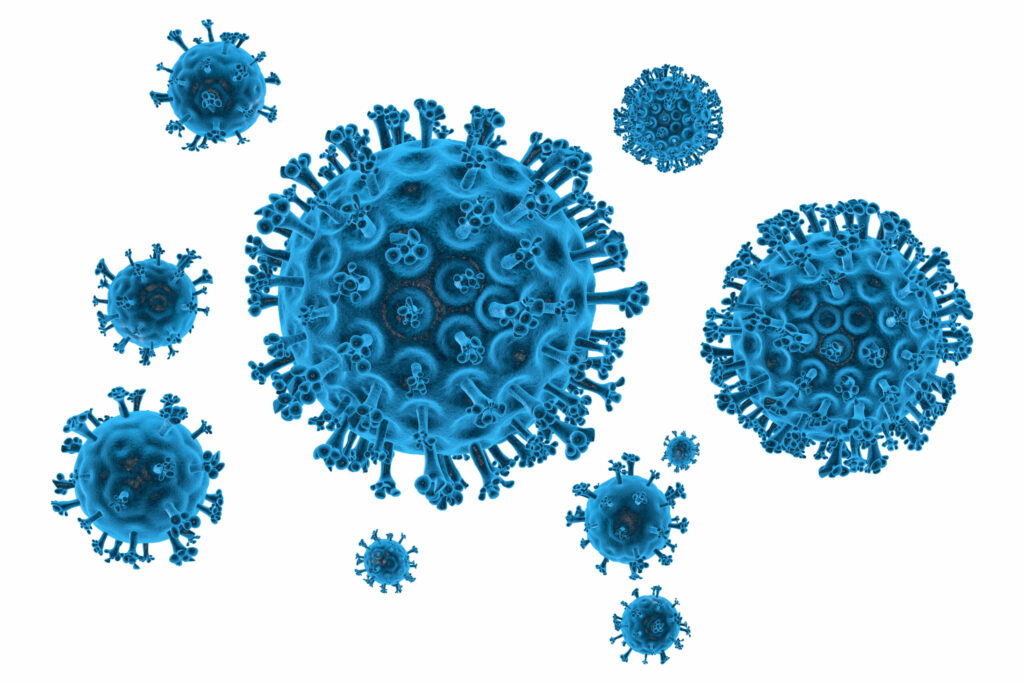 Door handles
Everyone touches door handles to get around your workplace. It should therefore come as no surprise that this is one of the key office areas where germs grow.
The more people that touch the handles, the larger the variety of germs that can pass from person to person among you all. Wash your hands regularly with soap and warm water for at least 20 seconds to help stop the spread, and use hand gel where available. If you have a good commercial cleaning company, their cleaning staff should be sanitising door handles as part of the daily cleaning routine.
Protective film door covers can also be installed to help protect your staff and visitors. Click here to learn more about these door handle protectors.
Office desks
The average desk has around 400 times more germs than a toilet seat! That's about 21,000 bacteria, viruses, and fungi per square inch. As you've probably noticed, these little guys travel most often on your hands, moving to and from things as you touch them. That's why washing your hands often is key to stopping the spread of infections.
Regular sanitising of your office desk will help keep these numbers low.
Telephones and computers
Your office phone and computers may be even worse than your office desk, with an average of 25,000 germs per square inch. Wipe the phone down throughout the day with a sanitiser, especially if other people also use it, and the computer at the end of each day. In terms of office areas where germs grow, these two take some beating!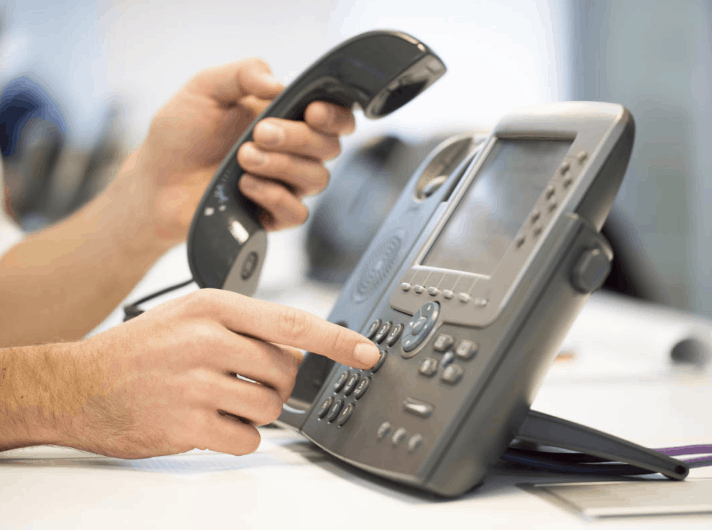 Coffee mugs
They may seem safe to share and not one of the obvious office areas where germs grow, especially when they have been washed and put away, but one study found that 90% of office mugs had significant germs, some with "fecal matter".
The problem probably isn't the cups themselves, or the people who use them. Odd as it sounds, a more likely explanation is that the germs transfer to the mugs from when you try to clean them with less-than-pristine supplies in a common kitchen area.
As a solution, consider bringing your own mug to work, or invest in personalised mugs for your employees that they take personal responsibility for.
Kitchen sponges
Kitchen sponges are normally wet, and highly absorbent when wet. In terms of office areas where germs grow, the office sponge is a perfect place if you want to collect and nurture germs.
A quick effective fix? Blast the sponge in your microwave on high for two minutes will kill most things. Also try and make a habit of replacing your sponge at the end of every week at least.
Washrooms
If you were asked to name office areas where germs grow fast, the ashroom would probably be one of your first thoughts - and you would be right!
Even getting your hands clean once finished can be hard because the faucet handles and toilet door handles may be especially dirty. You could hold a paper towel in your hand when you turn the water on and off, as well as when you push the handle to flush the toilet and exit the washroom.
Lift buttons
Perhaps not one of the office areas where germs grow that will come immediately to thought, but the risk is obvious when you think about it. If you use a lift for work each day, so will many others, with hundreds of presses of each button every day.
Be sure to wash or sanitise your hands after use, or try and press buttons using your elbow if you have sufficient skill and don't mind some odd looks!
Hopefully you are now more conscious of key office areas where germs grow fast. The best way to prevent this is to engage the services of a professional cleaning company to keep your office safe.
To learn more about Green Fox Cleaning and our skill in office cleaning, click here to learn more.
Do office chairs ruin carpet?
To decide how to stop office chairs ruining carpet, we need to understand if they do actually damage carpet. Whether office chairs ruin carpet or not depends largely on the chair's wheels. Office chairs equipped with cheap and low-quality wheels may ruin carpet, especially if they're broken down and get jagged and sharp edges. However, office chairs with roller-blade style caster wheels will not ruin the carpet.
If you have roller-blade wheels on your office chairs you are in a good place. If not, then keep reading to learn more about how to stop office chairs ruining carpet.
How to stop office chairs ruining carpet
We have all been there. Working in an office with a nice carpet, only to find the wheels on the office chair over time damage the carpet, leaving the carpet looking tidy and having a negative impact on the overall appearance of the office.
So, how can we stop office chairs ruining carpet? The answer isn't as difficult as you might fear.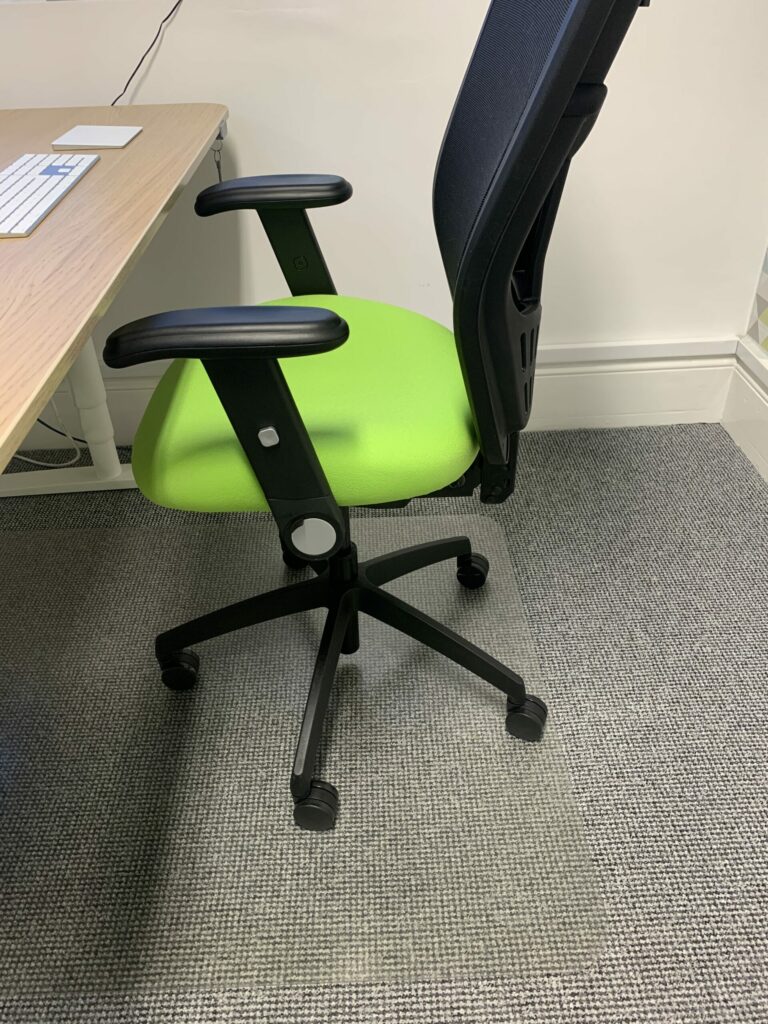 As shown in the above picture, a transparent protective mat has been placed on the carpet. It is important to ensure the mat is far enough back to cover the area that the user may wheel across when getting up from their desk and sitting back down.
Like virtually any product you can buy, you are able to buy really poor quality mats, and sturdy mats that will offer your carpet full protection.
Things to consider when selecting a mat to stop office chairs ruining carpet
There are a number of factors to consider when selecting a protective mat for your office carpet. The following are key considerations:
Size of the mat needed - it needs to be large enough to cover the desk area and nearby for where the chair wheels may travel, but small enough to fit under the desk it is being purchased for.
Style of mat wanted - do you want it transparent, coloured, patterned or something else? Laminate or plastic? There are many variations available, so you should consider what will look best aesthetically in your office.
Do you want grippers on your mat? Some mats have grippers underneath to prevent the mat sliding. We would recommend this option to save the need for the user continually having to push the mat fully back under their desk after sliding a chair on it a few times.
What if I don't want a mat under my chair?
If you aren't keen on the option of mats under your chair, you are left with two considerations.
Accept the carpet will wear over time, and keep a close eye for damage to your office chair wheels. Change the wheels if you see jagged or rough edges to prolong the carpet life.
Invest in new office chairs with roller-blade wheels. These are designed to protect carpets and do not require the use of floor mats.
We hope this article has given you a better understanding of the options available to you when it comes to protecting your office carpets from office chairs.
If you want to keep your carpets and the rest of your office in tip-top condition, you should consider hiring a professional office cleaning company. Click here to learn more about our office cleaning services and get in touch for a no obligation quote.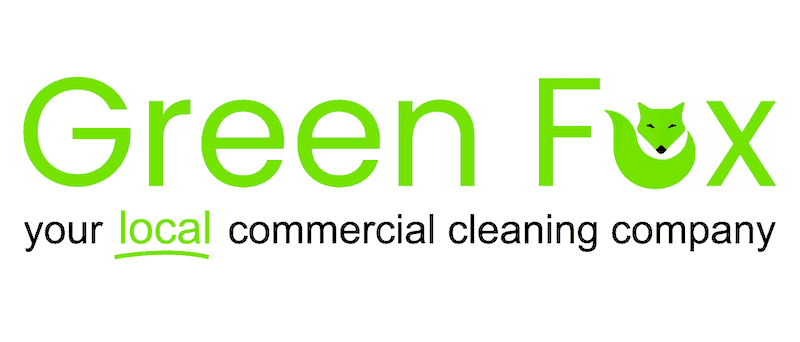 7 Reasons to use an external cleaning company in your business
There are many reasons to use an external cleaning company to take care of your ongoing cleaning arrangements - the purpose of this article is to give you an insight into the main reasons you should consider this.
Why do companies decide NOT to outsource their cleaning to an external cleaning company?
There are a number of reasons that some companies keep their cleaning arrangements in-house. The most common two reasons tend to be as follows:
A bad previous experience
Once bitten, twice shy. A common phrase, and key to why a number of companies choose not to outsource their cleaning needs. Some companies have engaged the services of a commercial cleaning company, and have experienced poor clean standards, missed cleans and a lack of management.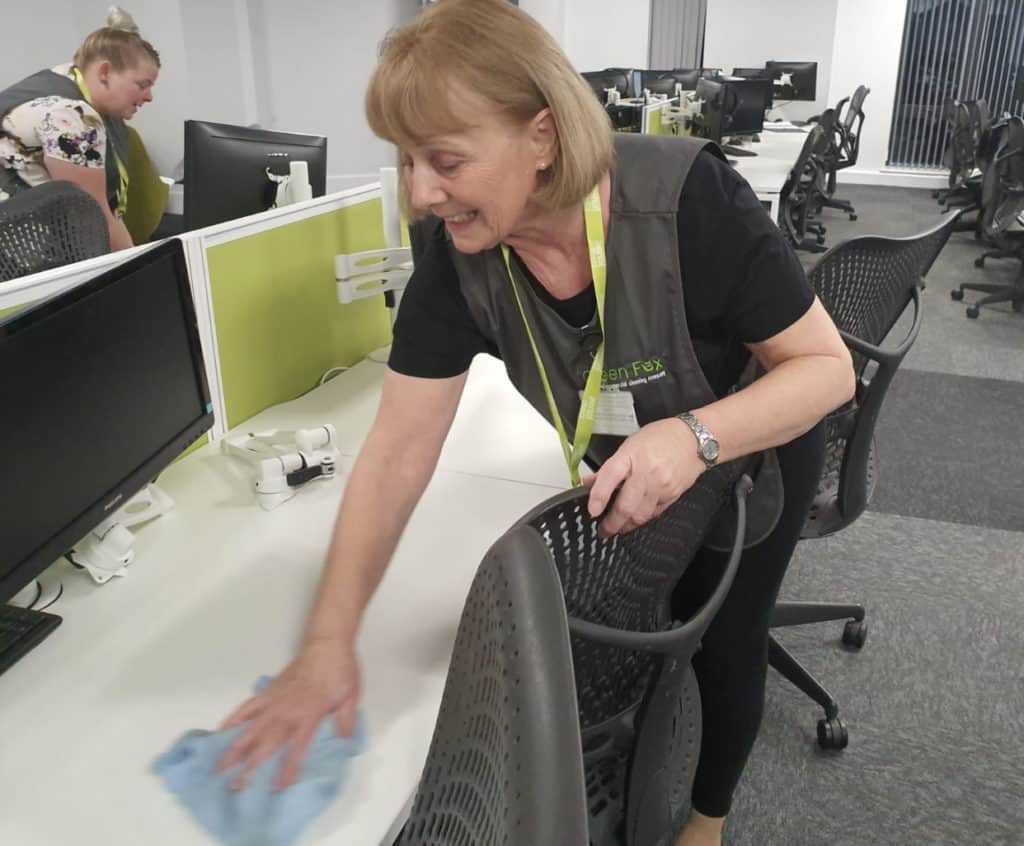 The whole point of outsourcing your cleaning arrangements, or any service for that matter, is to allow you to focus on other keys areas of your business or educational premises. A good commercial cleaning company should offer a fully managed, efficient service.
At Green Fox Cleaning, just a few of the benefits of engaging our services for your premises include the following:
Skilled cleaners, trained by our in house British Institute of Cleaning Science (BICSc) team.
Dedicated account manager for a daily point of contact
A local service - we don't manage your service from the other side of the country!
A 24-hour client support line - we are always there for you
GPS tracked employees monitored 24/7 - get the cleaning time you pay for, and never miss a clean!
There are many more benefits, but hopefully the above give you an idea of the level of service and professionalism that you should expect when outsourcing your cleaning. This service level obviously comes at a cost, and consideration must be given to the value of service being offered, and not just the cost.
A perceived cost saving
The second common reason for companies keeping their cleaning arrangements in house is the perceived cost saving. It can appear more appealing to pay a cleaner an hourly rate, or pay an existing member of staff a few hours extra money to complete the cleaning. On the face of it this may appear a great saving, but this is far from clear cut. More on this in one of the seven reasons reasons to use an external cleaning company.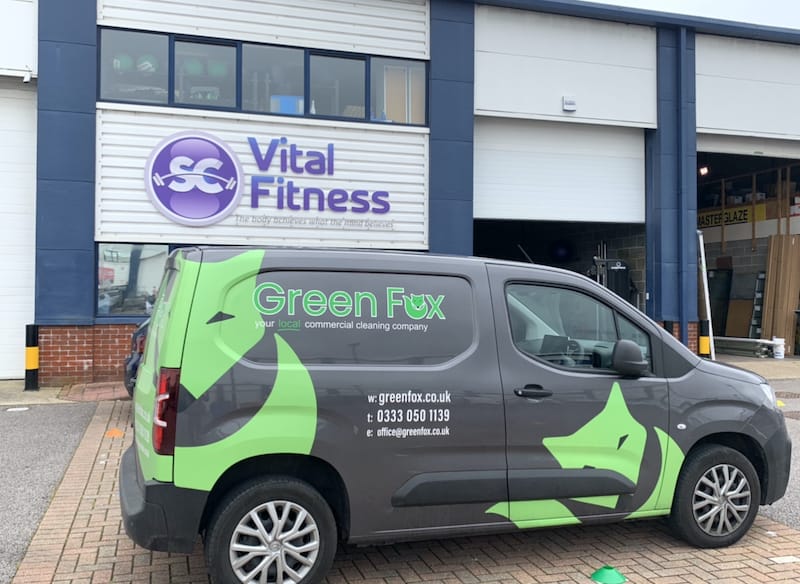 Seven reasons to use an external cleaning company
Reason one - no unexpected costs
On the face of it, it may be more appealing to employ a cleaner directly to save money, however this could not be further from the truth. One of the main reasons to use an external cleaning company is that you have a fixed monthly cost allocated to the cleaning of your workplace. This makes it easy to budget, and avoids unexpected additional costs, including training, sick pay, pension, price variants to cleaning products and PPE. It also means you don't need to worry about the risk of missed cleans, all assuming you engage the services of a good commercial cleaning company.
Reason two - they are the professionals!
Much like you are expert in your sector, cleaning companies are the same in their sector. It's obvious if you think about it, but a good commercial cleaning company will have the skill and knowledge to deliver a top quality service. This is one of the main reasons to use an external cleaning company for your cleaning requirements.
Reason three - the best products used for top results
If you are cleaning in-house, chances are you pop to the local supermarket, or have one supplier who will normally be affiliated to one line, and they will sell these products with higher margins, even though they may not be the best choice for your product. The selection of the best cleaning products is key to keeping your premises looking as good as possible. At Green Fox Cleaning, we have access to the best environmentally friendly products that will keep your premises looking great. We have tested hundreds of products, and continually review the best options for each client.
Reason four - risk assessments are taken care of
Another of our top reasons to use an external cleaning company is that the health and safety considerations around the service should be taken care of by a good commercial cleaning company.
COSHH data, method statements and risk assessments should be fully completed and kept on site. Regular PAT testing on electrical items on site to keep them safe also ensures you are complying with health and safety legislation.
This peace of mind is another of the good reasons to use an external cleaning company for your cleaning requirements.
Reason five - never miss a clean
The worse case with cleaning is to miss a clean. Imagine coming in to your school, medical practice or office in the morning to find the cleaners haven't turned up! Worst case, that could prevent you being able to open your business. At Green Fox Cleaning, our employee GPS tracking system is monitored round the clock by an on-call manager. In the event a cleaner didn't clock in as scheduled, the manager would be alerted and investigate.
If there had been an emergency and cleaner could not make your clean, one of our managers would deploy a supervisor or even respond themselves, to ensure you never walk into a dirty premises.
Reason six - no ongoing training
Ongoing training is required in all industries, and cleaning is no different. Safe handling of chemicals, manual handling and other key training needs to be refreshed on an ongoing basis. You need to keep training records and evidence you are keeping your cleaning staff safe, the same as all other employees.
A good commercial cleaning company will have processes and training methods in place. This is another of the key reasons to use an external cleaning company.
Reason seven - focus on the growing and smooth running of your business, not the cleaning
Hopefully the previous six reasons to use an external cleaning company have shown the benefit of outsourcing your cleaning services, however the final reason is possibly the best of the reasons to use an external cleaning company - you can focus solely on your business, and let the cleaning be an invisible magic occuring in the background.
To find out more about the sectors that Green Fox Cleaning operate in and how we can help improve the appearance of your business , click here to learn more.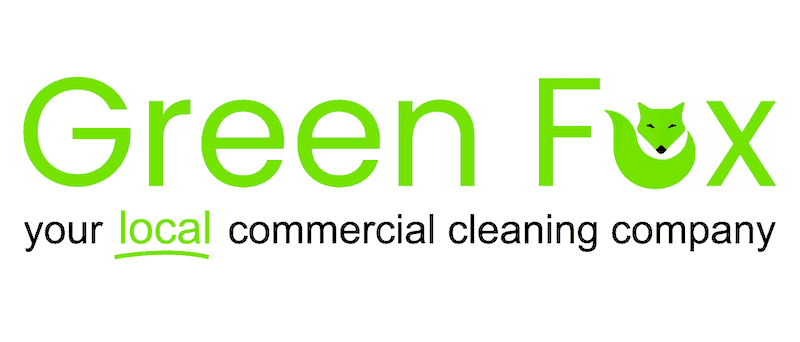 What is commercial cleaning certification ( How does it work )
With many commercial cleaning companies around, it can be difficult to know which company to pick, when you are simply looking at various websites.
Most of us have worked in an office or other environment where we have found the cleaning to be of a very poor standard. Our first instinct is to blame the cleaner and say they can't clean, but we need to ask the question, why is their cleaning so poor?
This leads on to the subject of commercial cleaning certification. Do you know what commercial cleaning certification is? The title would suggest that it is a qualification needed to clean professionally, however the sad reality is that anyone can start a commercial cleaning company, pull anyone off the street and out them to clean your premises, with little or no training.
Sure they will probably offer a cheap service compared to some companies that invest in staff training, but the results will reflect this, almost guaranteeing no customer satisfaction.
Think about it, why should commercial cleaning be any different to any other service we use at our business? Would you use an unqualified electrician to rewire the office, or let your office staff run with business without training them on your policies, procedures and how to maximise the efficiency of your business?
The sad reality is, many cleaning companies aren't willing to have this outlay, to squeeze every penny of profit they can in this competitive market place. It's an old saying, but if you buy cheap, you buy twice. This is no different in the cleaning world.
At Green Fox Cleaning, we invest in our commercial cleaning certification to professionalise ourselves, and stand out from the crowd. We are members of the British Institute of Cleaning Science (BICSc), and have our own qualified BICSc accredited training team that deliver training to our cleaning operatives.
The amount of sites we quote at where a previous cleaning contractor has been in place and there is absolutely no standard of cleaning at all is worrying.
Why is this training needed?
It is a real misconception that everyone can clean well if they want to. Knowing how to clean efficiently and effectively takes skill. Vacuuming using correct processes can be up to 50% more efficient that not using a systematic process, and avoids areas being missed.
Did you know there is a correct way to vacuum, to mop and even how to fold and use a cloth? Following correct process will benefit your company, as the cleaners will be trained in preventing cross contamination and leaving other health & safety breaches.
How to select a cleaning company that invest in staff training
When selecting a commercial cleaning company for you premises, it can be easy to simply focus on the price. The reality is that a company that do not invest in commercial cleaning certification may well cost you a lot more in the long run.
Companies that invest in their staff will have better retention, meaning a more consistent service for you, and better standards. Invariably, companies that have staff nightmares end up becoming your nightmare also with poor cleans and even missed cleans.
Click here to learn more about Green Fox Cleaning and how we can improve the appearance of your business with ours. Our investment in commercial cleaning certification for our staff results in great staff retention rates, and happy, valued employees.