Stainless steel handrails are common place in many workplace premises. They look fresh, modern and when clean look eye catching.
Sadly they can catch the eye for the wrong reasons. Fingerprints, smears and other dirt can leave these rails looking dull and very sorry for themselves. It is very important to clean stainless steel railings correctly and on a regular basis, to keep them looking great.
The good news is, keeping your stainless steel railings looking great doesn't have to cause blood, sweat and tears. After reading this short article, you will know exactly what is required to correctly clean stainless steel railings, without the need for chemicals also.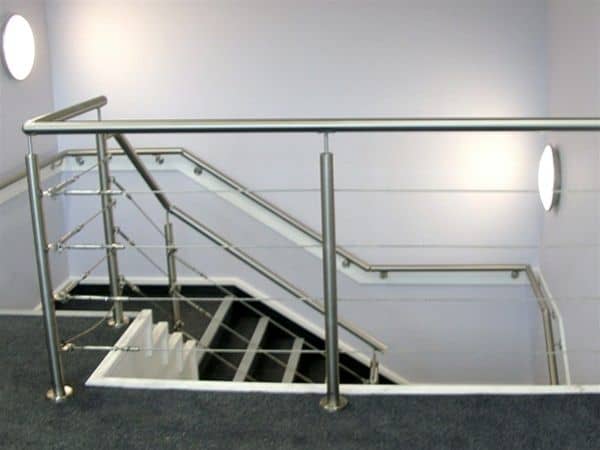 How to clean stainless steel railings without chemicals
Option one - warm water
When it comes to how to clean stainless steel railings, daily and regular maintenance cleaning of your railings is as simple as using warm water and a soft cloth, such as a microfibre cloth. Have a spare dry microfibre cloth to fully dry after cleaned. If you can see obvious polish lines, always wipe in the same direction as they go.
Option two - washing up liquid and warm water
If it has been a while since you last cleaned your stainless steel handrails or they have obvious marks, washing up liquid added to warm water is a great safe option for cleaning them with a soft cloth, dor a deeper clean. Ensure you fully rinse after with water to remove any washing up liquid, and dry with a fully dry cloth after.
Option three - best way to tackle fingerprints
One of the biggest problems with stainless steel is that it loves to fully show off fingerprints and other marks caused by touching. The best way to remove these is to use a glass cleaner with a microfibre cloth. Again, rinse and dry thoroughly after completing this cleaning process.
The easiest way to keep your handrails looking great is to employ a good commercial cleaning company to clean them as part of your daily cleaning service.
Green Fox Cleaning are a commercial cleaning company that are highly experienced in cleaning within all sectors, including office cleaning.
Our knowledge and highly trained staff ensure we can keep not only your handrails looking great, but the rest of your premises looking great also.
Click here to learn more about how we can help improve the appearance of your business with ours.