Colour coding in cleaning - what's it all about and why does it matter?
Commercial cleaning is a skill when done professionally, with clear and strict processes to minimise the threat of cross contamination. This training promotes safe working practices when cleaning premises.
One key aspect of professional commercial cleaning is adhering to a strict colour coding system when cleaning at premises. But what is a colour coding system, and how does it work?
Colour-coded cleaning is by far the simplest and most popular way to help any business owner meet the highest standards of hygiene at their premises. First developed in the 1990s for cleaning hospital and clinical environments, the lessons learned there were soon applied across the cleaning and catering industries.
There are typically four key colours in the commercial cleaning sector when it comes to colour coding in cleaning. This means that different coloured cloths, mops and buckets will be used in different areas of a building. The British Institute of Cleaning Science (BICSc) provide recommended guidance on correct colour coding, which all at Green Fox Cleaning fully adhere to.
What this means in the most simple terms, is that you don't mop a dirty toilet and use cloths there, and then go and use the same mop and cloths to clean a kitchen or office area.
What are the four colours for colour coding in cleaning?
There are four main colours when it comes to colour coding in cleaning. Here is an overview.
RED
Red cloths, mops and buckets should only ever be used in washrooms.
BLUE
Blue cloths, mops and buckets should only be used in general low risk areas. This could include offices with hard floors, care showrooms etc
GREEN
Green cloths, mops and buckets should only be used in food preparation and consumption areas - that is kitchens, restaurants and similar.
YELLOW
Yellow cloths, mops and buckets should only be used in a clinical setting. This would include things such as doctors consultation room, hospital wards etc.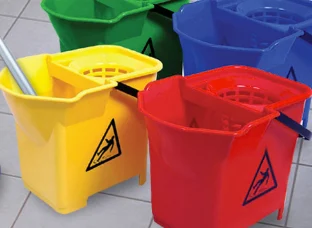 What items can be colour coded in cleaning?
When it comes to colour coding in cleaning, there are many items that can be colour coded. Here is a more comprehensive list of items that can be colour coded:
Mop – Mop heads, handles or both can be colour-coded.
Mop bucket – Whether light and economical plastic or hard wearing metal, most buckets can be colour coded
Rubber broom – Useful for sweeping up debris. Rubber brooms are a tough and durable alternative to traditional brooms, and are available in all colours.
Dustpan and brush set – A cheap but very effective way to clear up dry spills on the go - available in all colours.
Microfibre cloths
Sponge scourers – Abrasive to remove stubborn stains, but with a soft, absorbent sponge to wipe up any spills.
Industrial cleaning gloves – Ensure that hands are well protected and hygiene prioritised by wearing durable gloves during cleaning.
Grout brush
Trigger spray bottles
What are the main benefits of colour coding in cleaning?
Reducing the potential risk of cross-contamination
Quick visual indicator for managers when auditing and observing staff
Removing language barriers - colours are a clear indicator which can visually explained easier
Simplifying training a diverse workforce
Ease in separating and organising tools for different areas
Increasing customer confidence in cleanliness
The reality is that none of the above matters if your commercial cleaning company don't fully train their staff in colour coding and its importance, as well as all other aspects of cleaning.
In summary
Sticking to colour-coded equipment ensures there is no cross contamination during the cleaning process. Preventing harmful bacteria being transferred around any premises and helping eliminate the risk of infection.
To find out about our professional, fully colour coded and reliable commercial cleaning services and how we can help improve the appearance of your premises, click here to contact your LOCAL office.