Contract cleaning companies - make the right choice for your business
Contract cleaning companies have become increasingly popular in recent years, as businesses and organisations look for ways to save time and money by outsourcing their cleaning needs. These companies offer a range of services, from daily janitorial cleaning to deep cleaning and specialised cleaning services including window cleaning and professional floor care. In this post, we will explore the benefits of using contract cleaning companies and some key considerations when selecting a provider for your workplace.
Benefits of using Contract Cleaning Companies
One of the biggest benefits of using a good contract cleaning company is the time and cost savings that they can provide, allowing you to focus on the daily running of your business. Outsourcing cleaning tasks to a professional company can free up staff time to focus on other tasks and responsibilities. In addition, a contract cleaning company can often provide cleaning services more efficiently and effectively than an in-house team, thanks to specialised training and equipment.
Another advantage of using contract cleaning companies is the flexibility they can provide. Most companies offer a range of services and can tailor their offerings to meet the specific needs of each client. This means that businesses can choose to use contract cleaners for daily janitorial tasks, periodic deep cleaning or specialised services including carpet cleaning, hard floor care or pressure washing. At Green Fox Cleaning, we offer 24/7 availability, allowing businesses to schedule cleaning services at any time of day or night with us.
In addition to these practical benefits, contract cleaning companies such as Green Fox Cleaning can also provide peace of mind to businesses and organisations. By outsourcing cleaning tasks to Green Fox, businesses can rest assured that their facilities will be cleaned to a high standard, using safe and effective cleaning products and methods. This can be especially important for businesses that serve vulnerable populations, such as medical premises, schools, and nursing homes.
Selecting a Contract Cleaning Company
While there are many benefits to using a contract cleaning companies, it is important to choose the right provider for your needs.
Here are five key considerations to keep in mind when selecting a contract cleaning company:
Experience and Reputation
When selecting a contract cleaning company, it is important to choose a provider with a strong track record of success. Look for a company that has been in business for several years and has a proven reputation for providing high-quality cleaning services. You can also ask for references from current or past clients to get a sense of the company's reliability and professionalism. Our reviews are clear for all to see, at various sites including Trustpilot.
Services Offered
Make sure to choose a contract cleaning company that offers the services you need. Some companies specialise in certain areas, such as window cleaning or floor care, while others offer a wide range of services. Make sure to ask about the specific services offered by each company, as well as any limitations or restrictions. At Green Fox, we focus on delivering an excellent service level to clients in all sectors. We can supply consumable products such as toilet roll, hand towels and bin liners to our clients, making us a true one stop shop - all from our trusted local suppliers.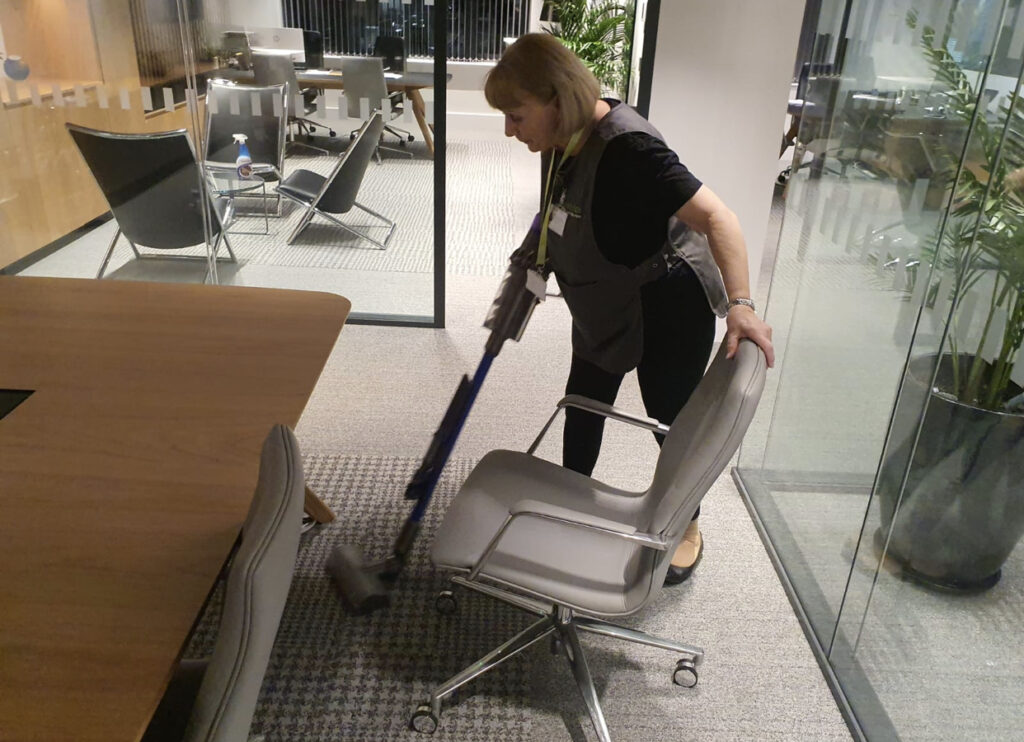 Staff Training and Certification
Contract cleaning companies staff should be well-trained and certified in order to provide effective and safe cleaning services. Make sure to choose a contract cleaning company that invests in staff training and certification, and that uses safe and effective cleaning products and methods. Our staff are trained to a nationally recognised level with our British Institute of Cleaning Science in-house accredited trainers.
Insurance
A reputable contract cleaning company will have insurance in place to protect both themselves and their clients in case of accidents or damages. Make sure to ask about the insurance coverage of each company you are considering. We offer comprehensive public liability, product and employers insurance policies for all our clients.
Communication and Flexibility
Finally, choose a contract cleaning company that is easy to communicate with and flexible in terms of scheduling and service delivery. Look for a company that is responsive to client needs and can accommodate changes in schedule or service requests. Our 24/7 client support line and local support office teams ensure our communication and service level is second to none.
In summary
Contract cleaning companies can provide a range of benefits to independent businesses and organisations, including time and cost savings, flexibility, and peace of mind. When selecting a provider, it is important to choose a company with a strong reputation, comprehensive services, well-trained staff, insurance and bonding coverage, and good communication and flexibility. By choosing the right contract cleaning company, businesses can ensure that their facilities are clean, safe, and well-maintained, allowing them to focus
Click here to contact your local Green Fox Cleaning office, and let us provide a free, no obligation quote for our unrivalled local contract cleaning services.