What is Cross Contamination?
Cross contamination is the act of moving bacteria or soils to areas that could be exposed to humans which could potentially harm the individual(s) involved. In the case of cleaning, cross contamination can happen in a number of scenarios. The most obvious example would be your cleaning operative cleans around a toilet, followed by cleaning the kitchen work surfaces with the same cloth.
How can I avoid cross contamination in my workplace?
You can prevent cross contamination during the cleaning process of your premises in very simple ways. Here are four examples:
The use of a colour coded system
The professional cleaning industry has a recognised colour coding process, which any reputable and knowledgable cleaning company should be fully au-fait with. If they aren't alarm bells should be ringing. In essence, colour coding is using recognised coloured cloths, sprays, buckets etc in certain areas, to ensure a toilet bucket never ends up being used in a kitchen, and vice versa.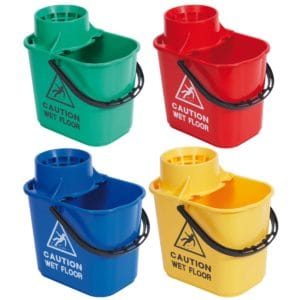 The use of microfibre cleaning technologies
Microfibre is a material that is made of synthetic fibres that attract dirt, bacteria, and other pathogens like a magnet. Microfibre tools are made to attract and capture up to 99% of dirt, bacteria and other pathogens, while cotton fibre tools are made to attract 33%- basically moving bacteria from surface to surface. Therefore, the use of microfibre cloths, mops, and other microfibre tools allow for the removal of bacteria, dirt and allergens, because microfibre is designed to attract and hold these elements.
In the two images below, the top image on the right shows the microfibre structure under a microscope.. The bottom image is a regular cotton structure which ultimately pushes dirt & bacteria around, rather than collecting it.
You can learn more about the benefits of microfibre cloths versus disposable cloths in another of our blogs by clicking here.
Training and knowledge
A professional cleaning company should provide training around cross contamination to all staff, and they should have a full understanding of this critical area of cleaning.
If a company does not provide training to their staff around this essential subject, you should not even consider engaging their services for your workplace premises.
A simple way to reduce cross contamination in a room is to clean from the cleanest to most dirty area - this simple process will reduce the amount of germs being moved to cleaner areas. For example in a washroom, the toilet should be the last area to be cleaned, with door handles and sinks cleaned before this. Also the use of multiple cloths in different areas will reduce the risk of cross contamination further.
Safe storage of cleaning products
A cleaning cupboard should look neat, tidy and organised at all times. It is a professional cleaners base, and they should take pride in it. Neat and safe storage should ensure dirty cloths and mop heads are not left festering in cupboards, and that colour coded setups are in place.
Correct process reduce the risk of cross contamination, which in turn have the following positive effects in your workplace:
Increased morale
Reduced sickness levels
Increased productivity
There are of course many more benefits to using a professional cleaning service apart from cross contamination. But how do you know where to begin looking for a contract cleaning company if you don't have one, or simply aren't satisfied with your current provider?
How do I select a cleaning company that will be knowledgeable and
efficient at minimising the risk of cross contamination?
When reviewing cleaning quotes, it is essential that you assess the value of the quote, and not just the price.
"Price is what you pay, and value is what you get"

Warren Buffett
At Green Fox we include the following as standard as part of our office cleaning service, do your other quotes?
Full colour coded processes, microfibre use and cross contamination awareness
24-hour client support line
Eco-friendly, highly effective cleaning products
The latest cleaning machinery for regular cleaning, and virus outbreaks
Dedicated site specific cleaning operatives, trained to the British Institute of Cleaning Science (BICSc) standard
Advanced GPS employee tracking monitored round the clock by our management time – never miss a clean!
Fairly paid, directly employed, uniformed employees – we pay a fair wage, never the minimum wage
We offer many, many more benefits than just the above. We are highlighting the importance of value over price – why have a cheaper service that you continually have to complain about when you can have a great service that runs almost invisibly in the background, allowing you to focus on growing your business in these challenging times.
At Green Fox, we have full knowledge, processes and safety measures to prevent cross contamination when cleaning your workplace.
If you would like to learn more about how we can help provide top quality cleaning services for your premises, please call 0333 050 1139 or click here to find out more.