Dental practice cleaning - how to select a company that will make a great impression
If you're a dental practice owner or manager, you know the importance of maintaining a clean and hygienic environment for your patients. Regular cleaning and disinfection of surfaces, equipment, and instruments is essential to prevent the spread of germs and ensure the safety of your staff and patients.
But cleaning your dental practice is not a task that you can leave to just anyone - you need a professional cleaning company that understands the unique needs of dental practices and can provide high-quality cleaning services.
A dental practice which doesn't maintain high standards of cleanliness will certainly lose patients, risks passing on infections and could fail inspection from the Care Quality Commission (CQC). For this reason, it is of paramount importance that cleaning practices are thorough, well organised and consistently upheld.
Poor cleaning standards and poor personal hygiene standards at dental practices can in the worst case scenarios end up in closures of practices, staff suspensions / dismissals and negative press reports about your dental practice. This makes it more important than ever to understand how to clean a dental practice correctly.
Here are ten great tips for selecting a good cleaning company for your dental practice.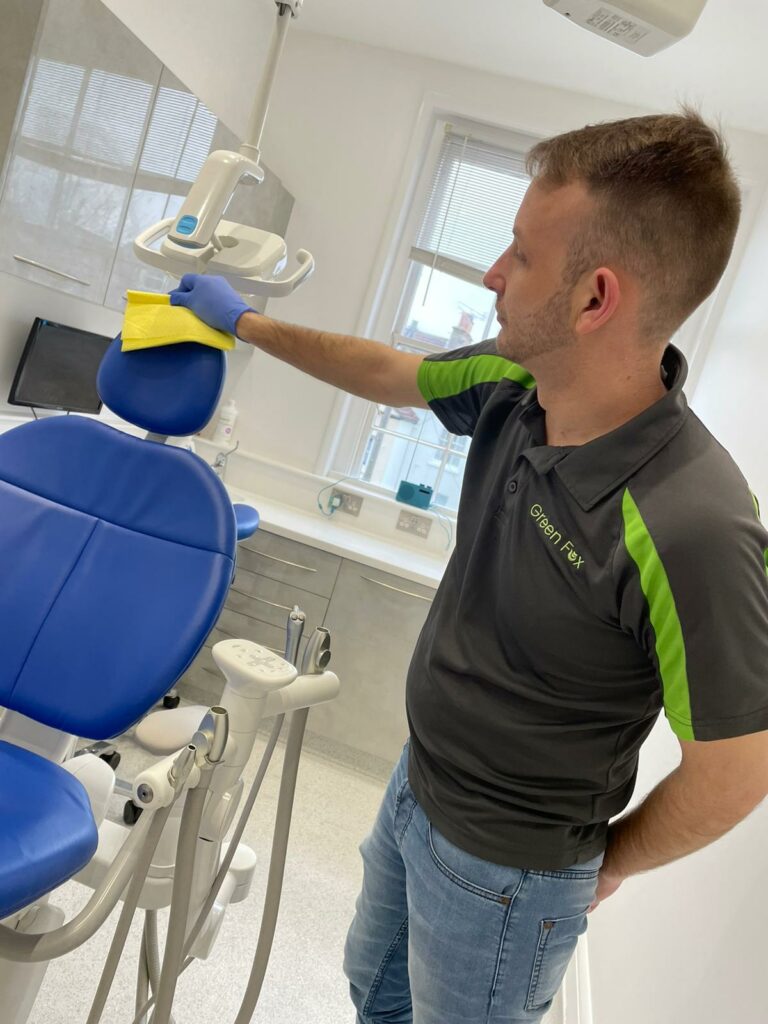 Look for experience: Dental practice cleaning is not like cleaning any other facility. You need a cleaning company that has experience working in dental offices and understands the specific cleaning requirements and protocols. Look for a cleaning company that has been in business for several years and has a track record of serving dental practices.
Check for certifications: A reputable cleaning company should have the necessary certifications and licenses to operate in your area. Look for companies that are certified by industry associations, such membership of the British Institute of Cleaning Science.
Consider the scope of services: The cleaning needs of your dental practice will vary depending on the size of your facility, the number of patients you see, and the services you offer. Look for a dental practice cleaning company that can provide a personalised cleaning schedule that meets your specific needs. Some of the services you may need include floor cleaning, disinfection of surfaces and equipment, and periodic deep cleaning of treatment rooms.
Ask for references: Before you hire a dental practice cleaning company, ask for references from other dental practices they have worked with. Contact those practices to learn about their experience working with the cleaning company and if they were satisfied with the quality of the services provided.
Evaluate the cleaning staff: The cleaning staff of a professional dental practice cleaning company should be well-trained, experienced, and professional. They should have a good understanding of infection control protocols and be able to work around sensitive equipment and instruments without causing damage. Ask the cleaning company about their hiring and staff training processes to ensure that their staff are qualified to clean professionally in a medical environment.
Consider the cost: Cost is always a factor when selecting a dental practice cleaning company. However, you should not choose a cleaning company solely based on the price. Look for a dental cleaning company that provides quality services at a price that reflects great value. Ask for a detailed quote that outlines all the services included in the cleaning plan, so you can see the value on offer, and what is offered by different companies for different prices.
Check the cleaning products and equipment used: Any dental practice cleaning company should use appropriate cleaning products and equipment that meet the specific needs of dental practices. Ensure that they use hospital-grade disinfectants and non-toxic, eco-friendly cleaning products. The equipment used should be well-maintained, up-to-date, and appropriate for your facility with full risk assessments and COSHH data on site.
Consider the availability and flexibility: You need a dental practice cleaning company that can work around your schedule and provide flexible cleaning services. Look for a company that offers after-hours and weekend cleaning services. They should also be available for emergency cleaning services if needed, such as infection outbreaks.
Assess the communication and customer service: A good dental practice cleaning company should have open communication channels and provide excellent customer service. They should be responsive to your requests and address any concerns or issues promptly. Look for a company that has a dedicated account manager or customer service representative who can handle your cleaning needs and provide timely updates.
Ensure compliance with regulations and standards: Dental practices are subject to various regulations and standards (such as CQC) related to infection control, health, and safety. Ensure that the dental practice cleaning company you decide to contract is compliant with all relevant regulations and standards. Ask for proof of compliance and ensure that they follow proper protocols when handling hazardous waste and sharps.
In summary
Hopefully this article about selecting a great dental practice cleaning company has been useful.
If you would like a free and no obligation quote for your dental practice, please click here to contact your local office.
We work with both local independent dental practices, and nationally recognised brands, including Bupa Dental care.