Event cleaning company services
Green Fox Cleaning were approached to provide event cleaning services for a number of premium car manufacturers at Goodwood Festival of Speed.
The rural location of Goodwood can make it challenging for cleaners to get to, and the sheer scale and number of visitors to events at Goodwood can cause serious traffic disruption in the immediate vicinity, making access nigh on impossible.
How to find a good event cleaning company
With the cleaning times being required between 6am and 9pm, the selection of a good cleaning company able to provide such services at Goodwood Festival of Speed and other event locations is crucial.
When selecting a company to clean at your special event, you need to ensure that the company can offer the following:
Highly trained staff
Local support in the event of unexpected staff shortages
Proactive event cleaning management
GPS employee tracking, to ensure all hours being charged are worked
Access to cleaning innovation, to tackle the ever changing British weather!
Pre-event cleaning was completed by our teams at Goodwood Festival of Speed as stands and stages were built, working alongside event teams and builders.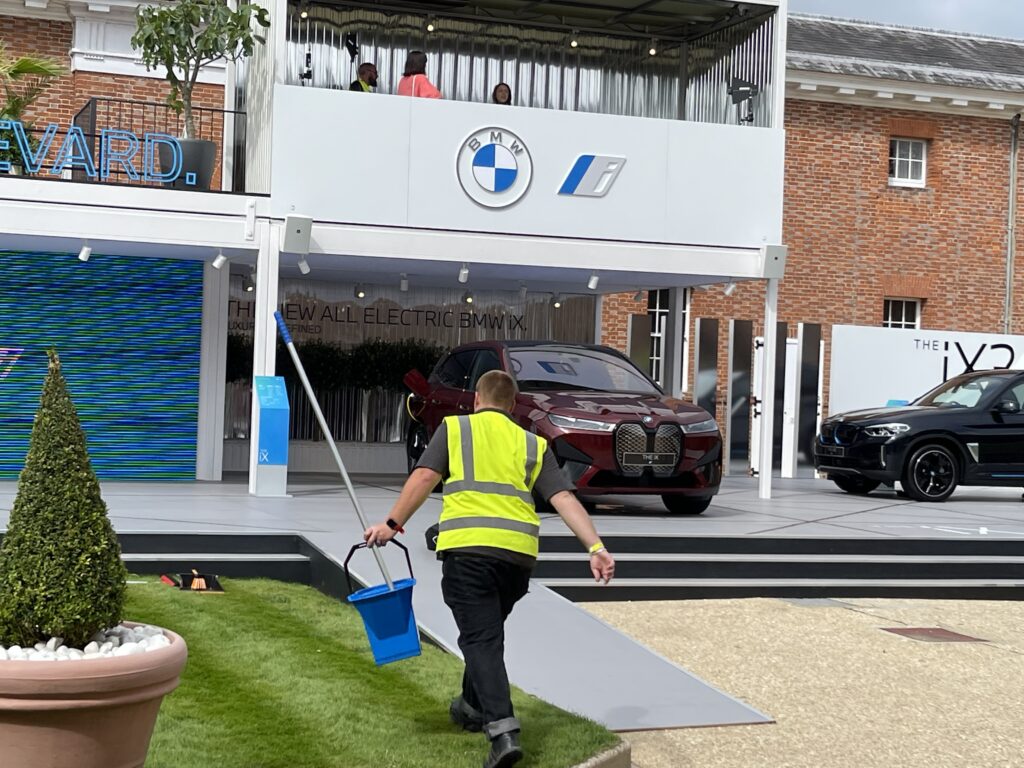 The British weather!
The weather brought challenges from water extraction machine placement at stands suffering flooding, followed by large amounts of mud walked onto carpeted stands, and associated slip risks on hard floor stands.
This required quick changes to cleaning practices, utilising water extraction machines, squeegees and other cleaning processes appropriate for an event with large crowds, whilst ensuring the highest levels of health and safety were maintained.
Ensure your selected cleaning company is accredited for safe working
Knowledge of safe working is essential in pre event cleaning, where there are builders and heavy plant machinery in operation.
What is the worst case if a guest or staff member suffers an injury as a result of poor cleaning processes, with a lack of health and safety? Was the wet floor sign out? Were there trailing cables?
With our SMAS and CHAS safe contractor accreditation, you can be assured that Green Fox Cleaning are a safe choice when working on construction sites.
Live day event cleaning services
After pre-launch cleaning services have been completed, the live days of any event are the most for the client. It's when they can show their product or service to visitors, and the exhibition location simply must look perfect at all times.

For the live Goodwood event cleaning days, we would sanitise all high touch points as well as cleaning all areas of stands throughout the event, without affecting the guest experience. This visible cleaning presence helped reassure the many thousands of visitors attending the stands each day, maximising the customer experience with ongoing sanitisation on digital screens and other high touch points.
Event cleaning feedback
The best way to judge the success of your work is by feedback from your clients, both positive and constructive. It allows continual development and improvements where needed. Feedback from our clients following this event included the following:
"Thanks for a great job throughout the event. Our cleaner being proactive and responding to spillages meant that our senior management and VIP guests didn't see it."

Mini
"Really appreciate your hard working team throughout the event – please pass on our thanks to all involved."

Porsche
"Sarah has been a superstar cleaning our Electric stand in these challenging conditions!"

BMW
In summary
Green Fox Cleaning operate in cleaning all sectors - not just events. Our event cleaning client portfolio has included P&O, Goodwood events, and much more.
To find out more about our event cleaning services and how we can help your event run smoothly and look great, please click here.