Goodwood Festival of Speed Event Cleaning Services: A race against dust
Green Fox Cleaning had the exciting opportunity to return to the Goodwood Festival of Speed this year to deliver large scale event cleaning services at the home of exhilarating, high-octane, full throttle action.
Any piston head will tell you that it's the mecca of motorsport. We were thrilled to be providing our event cleaning services at the world's greatest celebration of motorsport and car culture. Hundreds of thousands flock to Goodwood to experience everything it has to offer, from off-roading to drifting, formula one to concept cars and so much more.
You will find the titans of the automobile industry, proudly showcasing a dizzying array of extraordinary vehicles.The scale of this event was truly astonishing, and with such a high footfall – it really was a race against dust.
As the leading event cleaners in Hampshire, Green Fox was entrusted with three of the most exhilarating stands at this year's Festival of Speed–BMW M, BMW i and Porsche. We provided deep cleans to all three stands and cleaning operatives for all live event days. BMW had two stands this year. A stand to display their electric models and the other to celebrate an impressive 50 years of BMW M.
BMW i at Stable Yard paid homage to the very latest range of all-electric and electrified models. Offering visitors the exciting opportunity to view the luxurious BMW i Vision Circular, a concept that illustrates BMW's determination to be at the very forefront of sustainability. Although this stand was smaller than BMW M and Porsche, it required just as much attention to detail. This area was manned daily by a dedicated cleaning operative to ensure the stand always remained spotless and presentable in line with the high standards that BMW are renowned for.
BMW M at Trackside was the focal point for the Festival of Speed celebrations this year. With the World premiere of the very first BMW M3 Touring model and the UK premiere of the brand-new BMW M4 CSL–there wasn't a point in the day that this stand wasn't a hive of activity. A footfall of this proportion can present many problems for cleaning operatives; however, our wonderful event cleaning services team were on hand to address any issues as and when they arose.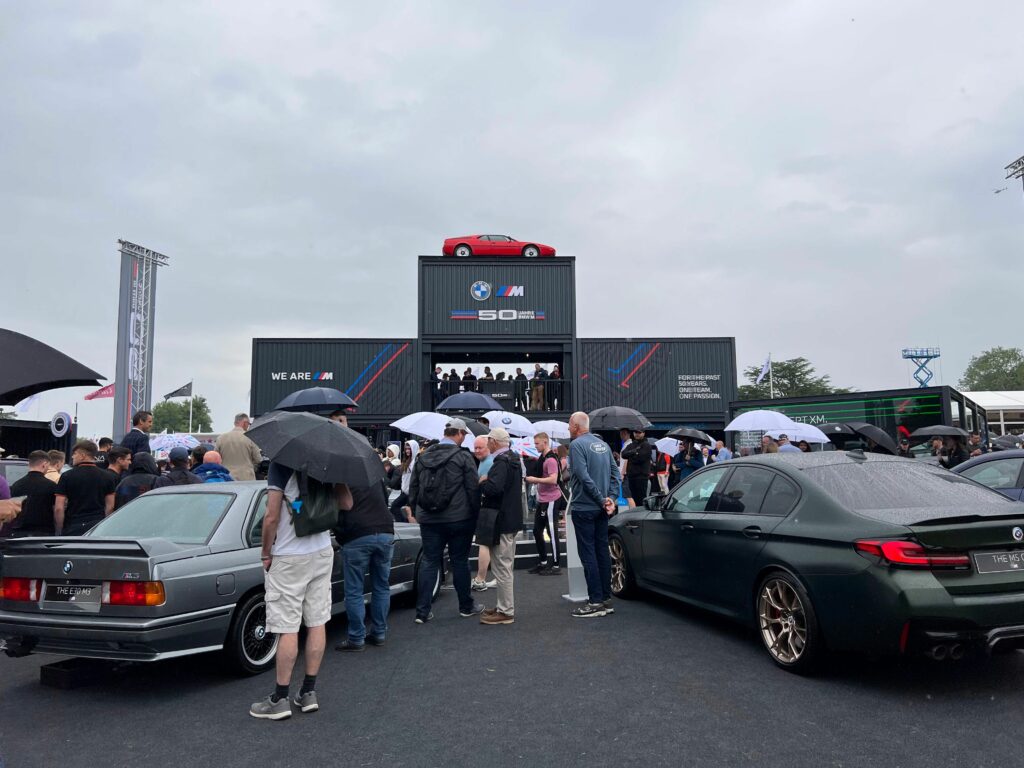 We experienced heavy rainfall on several of the days. Our team leapt into action to ensure wet floor signs were clearly displayed and the stages were kept puddle free. We maintained the entirety of the stand, which encompassed the shop, main stage, the grandstand and VIP areas to name a few.
Last but certainly in no means least, Porsche. This year they chose to create an open and spacious environment to exhibit some of the most loved Porsche cars including the 911 GT3 & 718 Boxster GTS 4.0. The Porsche stand contained a shop, cafe, VIP area, a segment dedicated to classic models and a futuristic experience centre. This vast area was enclosed by a myriad of glass panes, which required a great deal of attention due to the stand's proximity to the racetrack.
We received glowing reviews from Porsche, who complemented our cleaning operatives on their pro-activity. The event manager fed back to us how refreshing it was to have a cleaning team on the stand that worked off their own initiative and understood the standards that Porsche expected.
Overall, the Festival of Speed was a truly breath-taking experience. We cannot thank our dedicated team of event cleaners enough; it was a grand slam for Green Fox Cleaning in the race against dust this year. We're already looking forward to what the 2023 Goodwood Festival of Speed has to offer, and are ready for the next event cleaning challenge!
To read more about our range of event cleaning services, click here.
To contact your local office and find out more about our event cleaning services, click here.