Green Fox Cleaning name
At Green Fox Cleaning, we often get asked where the name come from? So we thought it would be good to share this story.
When our company originally formed in 2016, it was given the name "Workplace Cleaning." At that time we wanted something simple, and doing exactly what the name suggested.
Why did we decide to change the company name?
As we continued growing, we decided that this name really wasn't strong enough as a brand, with our plans to expand across the country, opening local offices to deliver an unrivalled commercial cleaning service. It also became apparent quickly that Workplace Cleaning being a descriptive term couldn't be trademarked, and trying to grow a nationally recognised brand without protection was a non-starter.
The company directors Paul and Daniel Barrett began the painstaking process of considering new names and brand ideas, working late into more nights than they care to recall, and putting various options to trusted advisory parties.
The winning name after much consideration was, of course, Green Fox Cleaning.
Below are the original and new logos, as the image of the company was transformed in early 2019: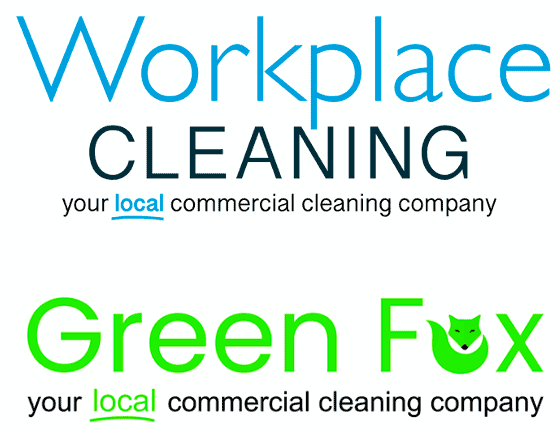 So, why Green Fox Cleaning?
The Green Fox Cleaning name was decided on the following key areas surrounding our business model:
Green
A major focus on our business approach is that of being conscious company. Just a few of our operating methods to consider the environment include:
Heavily reduced plastic usage - our special dosage systems reduce our plastic usage in our daily cleaning products by up to 99%!
The careful selection of cleaning products that are highly efficient, but also have a low environmental impact. We operate no more than three or four regular cleaning products at most sites.
We only deal with carefully selected environmentally conscious suppliers, meaning we can offer clients fully recycled bin liners, centralised bin systems and other benefits, working towards improving their own environmental policies.
The placement of local, highly trained operatives. Our focus on delivering a local unrivalled commercial cleaning service ensures that we are able to recruit the best local staff, thereby supporting the local economy, with many staff members attending their sites on foot or by cycle, therefore reducing our organisation's carbon footprint.
Fox
We considered all sorts of other names to add to the green element, and decided on fox for the simple reason that our cleaning services operate round the clock, and often at night. Foxes are largely nocturnal. With Paul and Daniel being animal lovers, the new company name was always likely to feature an animal of some sort.
Other animal names were considered, but just didn't have the same "ring" when said out loud as Green Fox, or the same link. Paul and Daniel have always had pet cats, but Green Cat just didn't sound right!
So there you have it, that is how Green Fox was born. To learn more about our company, our vision and how we value our staff, visit this link.