Will it benefit my business to use the services of a local commercial cleaning company?
Whether you are looking for a commercial cleaning company for your office, school, medical practice, showroom, or anything else, there are in essence two options when it comes to which company you opt for.
You will either most likely be looking at a large national cleaning company, or you will be looking for a local cleaning company.
Let's first have a look at the possible pros and cons of each option.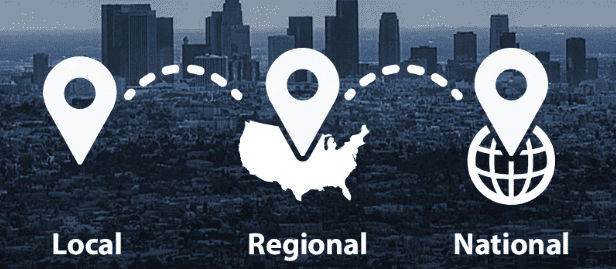 Pros and cons of engaging a national commercial cleaning company
A national cleaning company is likely to have a number of years experience, over which time they have fine-tuned their operations. They should know which products work best, and should be competent at risk assessments and method statements in relation to safe working processes. If you have multiple office locations, a national commercial cleaning company can often service all locations under one contract, meaning group cost savings.
On the downside, these companies often have little or no local support. This will mean that your account may be managed reactively (i.e only see a manager when you complain) rather than proactively. It is also likely that the lack of local presence will impact their ability to recruit the best local talent for your premises.
Pros and cons of engaging a local commercial cleaning company
More and more businesses are looking to utilise a local commercial cleaning company to clean their premises. But why?
A local commercial cleaning will by nature of being local (hopefully!) have a reduced carbon footprint, which should be a key consideration for any service. They should be able to respond quickly to any emergency matters and have access to the best local staff.
Some local companies decide to run at a small scale, which can mean they don't have access to some key services such as HR support, detailed site and COSHH risk assessments, and they may not be so experienced in managing staff - many local companies opt for self-employed staff as they don't want the responsibility of employing staff.
What if there was a way to get the pros from utilising a national cleaning company AND a local commercial cleaning company, and remove the negatives of both?
You will no doubt have seen our logo as shown below, which clearly shows our focus and dedication to delivering a local commercial cleaning service. You may have also noticed that we operate across the country with regional offices, so you can find your local office by clicking here.
What this means is that we can offer all the benefits of a local commercial cleaning company, with the backing and knowledge of a national commercial cleaning company.
✅ Proactive contract management
✅ Recruitment of the best local talent
✅ Detailed, site-specific risk assessments
✅ Ability to service different geographical locations with our regional offices
✅ 24-hour client support line
✅ Advanced GPS attendance management system
✅ Plus lots, lots more!
Our office in Waterlooville just outside Portsmouth was our first office to open, which began trading back in 2016. Off this reputation, we received enquiries companies in all sectors across the country. Not wanting to remove our local focus and support, we are continuing to open more and more regional offices to meet this growing demand, without compromising our high service level.
A local commercial cleaning company SHOULD be a more sustainable option when considering the environment
As sustainability gains importance across industries, Green Fox Cleaning leads the way in eco-conscious commercial cleaning practices - essential when selecting a great local commercial cleaning company. We prioritise the use of environmentally friendly cleaning products and equipment, reducing the ecological impact without compromising on the quality of our services. Choosing Green Fox Cleaning as your local commercial cleaning company not only guarantees immaculate premises but also demonstrates your business's dedication to a greener future, with our placement of local staff, reducing our carbon footprint and meticulous route planning.
We appreciate that no two businesses are the same. We create bespoke cleaning schedules that align with the specific needs and schedules of our clients. Whether you require daily, weekly, or deep cleaning services, we can accommodate your preferences to ensure a seamless and uninterrupted workflow for your business.
In summary
Using a local commercial cleaning company offers numerous advantages that extend beyond just cleanliness. First and foremost, supporting local businesses boosts the community's economy, contributing to job creation and overall growth. Additionally, local cleaning companies have a vested interest in maintaining a positive reputation within the community, which often translates into exceptional service quality and a strong commitment to customer satisfaction.
Local cleaning companies tend to have a smaller client base compared to large national companies, allowing them to give more attention to each customer. This personalised touch can lead to a higher level of trust and satisfaction.
In essence, choosing a local commercial cleaning company is not only about getting a clean workspace but also about investing in the local economy, fostering relationships, and receiving tailored services that cater to your specific requirements.
If you would like to know more about our reliable and affordable commercial cleaning services, click here to contact your local Green Fox Cleaning office, and let us provide a free, no obligation quote for our local commercial cleaning company services, wherever you are.