For many years, premises have selected national commercial cleaning companies for cleaning their premises, and found that the lack of a local office, local management and limited resources have resulted in a poor service.
At Green Fox Cleaning, we had a clear vision when we started trading - to be the best local commercial cleaning company in all sectors; to provide unrivalled, local commercial cleaning services with local offices. But why?
Benefits of selecting a local commercial cleaning company
Have you ever thought about what a local commercial cleaning company will give you over a national company with one centralised office?
SUPPORT - A local commercial cleaning company will have a local office. A good company will have a local manager who will be your dedicated point of contact. If you have a problem - this manager should be able to respond quickly, as they aren't currently 100 miles away running another contract!
STAFFING - A good local commercial cleaning company will have access to be best local employees, with a good local presence. Think of a town or city 50 miles away from where you work, and think how you would even try and recruit good cleaning staff for that area, with little or no local knowledge.
REDUCED ENVIRONMENTAL IMPACT - A local commercial cleaning company will spend less time travel to you, thereby reducing their carbon footprint - meaning environmental benefits.
PRIDE - A local commercial cleaning company will quite possibly be more determined to deliver the highest levels of service - thy will be passing you on a regular basis after-all, unlike the manager of a national company who only passes through your area every now and then!
LOCAL ECONOMY - A local commercial cleaning company will offer local jobs to local people, use local suppliers and in turn support the local community.
At Green Fox Cleaning, we have local offices that serve a clearly defined local area. Every client has a dedicated point of contact in the event of any issues. Our local presence allows us to proactively identify and recruit the best candidates for each of our clients. We offer our employees a good wage, and great employee benefits package. This allows us to enjoy retention rates well above the industry norm. We work with local and ethical suppliers for our uniform, cleaning equipment and machinery.
As you can see with our logo below, everything about Green Fox Cleaning is aimed at delivering a great local commercial cleaning service.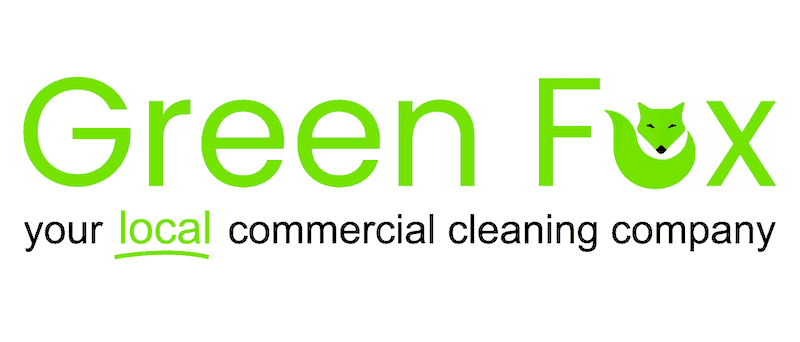 But don't national companies know more?
It is true that if you decide to engage "Maud with her mop" or a very small commercial cleaning company, they may well not have the knowledge and support levels that you require. If your premises is a medical practice, what do they know about CQC regulations? How do they guarantee you will never miss a clean? Do they have access to the most effective cleaning chemicals and equipment?
At Green Fox Cleaning, our national coverage with local commercial cleaning company offices ensures that we can deliver a consistent service across the country, with the same high standards delivered for every single client.
These are just a few areas we excel in:
In summary
We hope that you have found this article on selecting a great local commercial cleaning company useful. Don't be afraid to ask probing questions when cleaning companies visit to quote, and look at the overall value of the service being offered - not just the cheapest price! Our local offices will be delighted to provide a free, no obligation quote for your premises at a time convenient to you.
To contact your local office and find out more about our local commercial cleaning company services, click here.