Medical premises cleaning services case study - how it started
In February 2020, we began providing daily medical premises cleaning services across two doctor surgeries for the Emsworth Surgery group - one in Emsworth and one in nearby village Westbourne.
The below photos show the two practice buildings as they were when we commenced the contract.
The Emsworth surgery was the main surgery for the group, but the surgery was far too small for the ever growing patient numbers joining the group for their primary medical care. At this time, the daily medical premises cleaning services were being undertaken by a commercial cleaning company that were going into administration.
We were invited to tender for the supply of daily cleaning services alongside other commercial cleaning companies.
We were successful in our bid to provide daily medical premises cleaning services across both sites shown in the above photos, with the client recognising the value we could offer them.
Upon contract award, we transferred two long standing cleaners who worked at Emsworth Surgery each day from the company that lost the contract, and employed a new cleaner to work at the George & Dragon Surgery each day where there was a vacancy.
Transferring of employees to a new company when a contract is lost is common practice within the cleaning industry, under a piece of legislation called Transfer of Undertakings and Protection of Employment regulations - best known as TUPE. You can read more about TUPE and the legal requirements of it by clicking here.
Changing company for a cleaner can be a worrying time - is their job safe? What will their new manager be like?
The team here quickly realised they needn't have worried, From day one they received a pay rise, and a great employee benefits package. One employee had been there for 8 years, and one for 15 years - always on the minimum wage. At Green Fox Cleaning, we always pay our staff a fair wage - NEVER the minimum wage!
As with all our clients, we formed a great working relationship with the staff and management team at both sites, and delivered a reliable, consistent service. When we started the contract, we were made aware that a build was underway (but temporarily halted by Covid) for a £3.5m super-hub surgery, being build on an old hospital site.
The plan was that the daily medical premises cleaning services at the George & Dragon surgery would continue to run as normal to support residents in the village, and the Emsworth Surgery would close down and relocate to this new premises.
Progress and build of the new medical practice
The Practice Manager for the group on top of her daily roles and responsibilities, was heavily involved with the builders at the new super-hub. We attended this site numerous times throughout the build, to discuss the design of the multiple cleaning cupboards across the various floors, placement of hand gel dispensers, and worked closely with our trusted local suppliers to deliver the best possible value to the client.
Our assistance with consumable ordering and stock management in turn removed this added responsibility from the Practice Manager.
Throughout the ongoing build, we continued delivering reliable daily medical premises cleaning services at the original Emsworth Surgery premises.
We received an update early 2021 that the new super-hub was due to open in April 2021. This experienced various further delays, during which period we had to balance our recruitment to add several new members to the team when the larger premises opened. There was a need to balance the time to interview, vet and reference new staff.- making sure this process was close enough to any start date to avoid the staff securing other roles.
Opening of the new Emsworth Surgery super-hub
The new super-hub finally went live in June 2021. We completed a post builders clean over an intense two day weekend period to lift all areas to a clinical level of cleanliness, prior to delivering daily medical premises cleaning services here following the opening on the Monday.
We used the weekend to move our equipment from the old Emsworth Surgery to the new super-hub, and place new site folders with new risk assessments and cleaning schedules.
The first week involved an Area Manager being on-site with the supervisor and team, inducting the team and working alongside them. A premises of this size and requiring medical premises cleaning standards requires military levels of precision to ensure the smooth delivery.
Floor plans were used to carefully plan and allocate cleaning areas for each operative, to ensure they were fairly spread and achievable within the allotted time. When it comes to medical premises cleaning, it is essential that the time allocated to each area is sufficient to clean to a clinical standard.
The below image shows the new £3.5m Emsworth super-hub from one angle. It is spread over three floors with 18 consultation rooms, three waiting rooms, two stairwells and numerous toilets and administration offices and staff areas.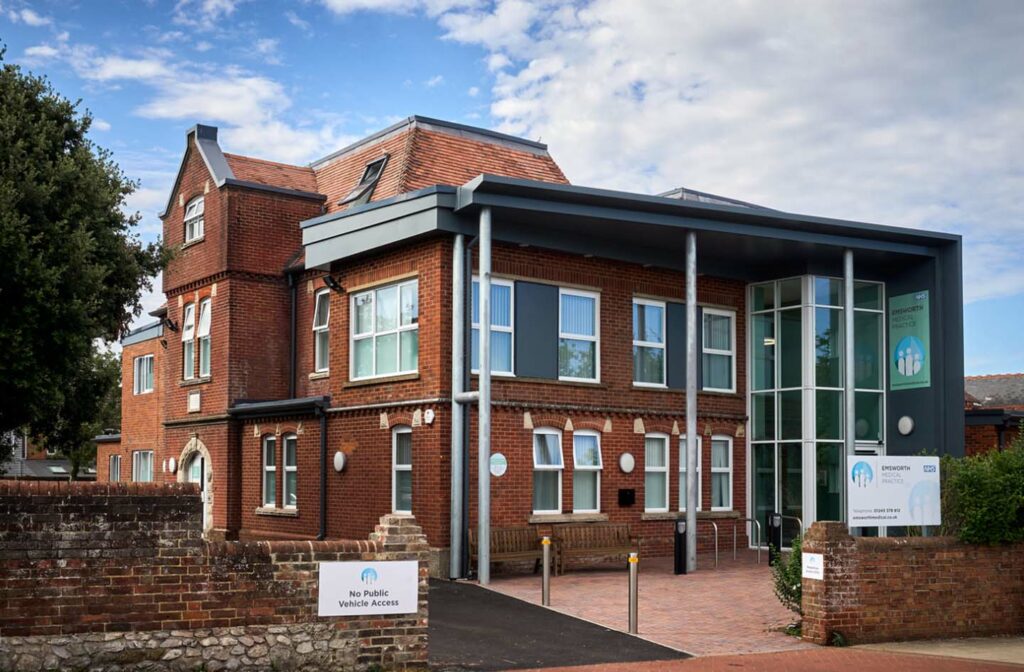 Due to the size of the new super-hub, we needed a dedicated site supervisor, and a team of a further four cleaning operatives to support them. The cleaning increased from four hours per day to ten hours per day. This would have been considerably higher, had it not been for the placement of two site dedicated floor scrubbing machines. These machines not only clean the floors far deeper than a mop ever would (they can often just push dirt around - especially if the water isn't changed frequently!), but also reduce the cleaning time and associated labour costs.
The below review is from the current Emsworth Surgery Practice Manager.
Medical premises cleaning can only be truly efficient and achieve full CQC compliance with the correctly trained staff, supplied with the correct equipment, and a good commercial cleaning company offering a proactively managed service.
We hope you have found our case study on medical premises cleaning services useful. You can learn more about the latest CQC requirements in relation to medical premises cleaning by clicking here.
You can click here to contact your local Green Fox Cleaning office, to see how they can help improve the appearance of your surgery with our medical premises cleaning services, and ensure full CQC compliance.