Finding reliable commercial cleaning services - where to start?
Businesses of all sizes and in all sectors engage the services of commercial cleaning companies to provide regular contracted services to their premises. The cost of engaging a contract cleaning company is not throwaway money, so how do you ensure that you receive great value and reliable commercial cleaning services from your contractor?
Firstly, we have to consider what we think reliable means when understanding what reliable commercial cleaning services are. The three key points we consider to be:
CONSISTENT ATTENDANCE - If you contract your cleaning company to attend 5pm-7pm Monday to Friday, that is when they should attend. If one of their staff is sick, that isn't and shouldn't be your problem.
Imagine running a school and coming in the next day to dirty classrooms. Imagine running a doctors surgery and coming in to find the surgery has not been cleaned, increasing the risk of infection to vulnerable patients. Imagine running a restaurant and coming in to find food over the floor, dirty tables and toilets - 30 minutes before you are due to open. This should NEVER happen if you have a good commercial cleaning company that provide reliable commercial cleaning services.
Consistent attendance is arguably THE most important factor when it comes to receiving reliable commercial cleaning services.
CONSISTENT SERVICE DELIVERY - Whilst consistent service is key, if the cleaners are not delivering the service you are contracting the company to deliver or attending for the full contracted time, this is a real issue. It means you will not be receiving what you are paying for, and getting full value from the service. A reliable commercial cleaning service should be delivering the same high standards to your venue - day after day.
COMMUNICATION AND FLEXIBILITY - Ok so this could be two points, but we feel they go hand in hand. A company providing reliable commercial cleaning services should be communicative with their clients and respond to any email promptly - always the same day. They should also be willing to be flexible to meet the client's needs if they need to change their cleaning times on occasions, or need extra cleaning support.
How do Green Fox Cleaning tackle the above three points and provide reliable commercial cleaning services?
CONSISTENT ATTENDANCE - We operate an advanced GPS attendance management system with geofencing. This is monitored by an on-call manager 24/7. Any "no-shows" are acted upon at the time. In the event a cleaner failed to attend, a manager would deploy a mobile cleaner to complete the clean, or even attend themselves.
CONSISTENT SERVICE DELIVERY - Our cleaners are trained by our in house British Institute of Cleaning Science (BICSc) training team, to clean to a nationally recognised standard. We complete regular site audits to check standards. Our GPS system alerts us to an "under-stays" if a cleaner was to leave early, which will be investigated at the time.
COMMUNICATION AND FLEXIBILITY - Our offices are staffed from 0830-1700 Monday to Friday, with dedicated support teams to respond promptly to client contact. On top of this, we have a 24-hour client support line, meaning we are available when you need us the most.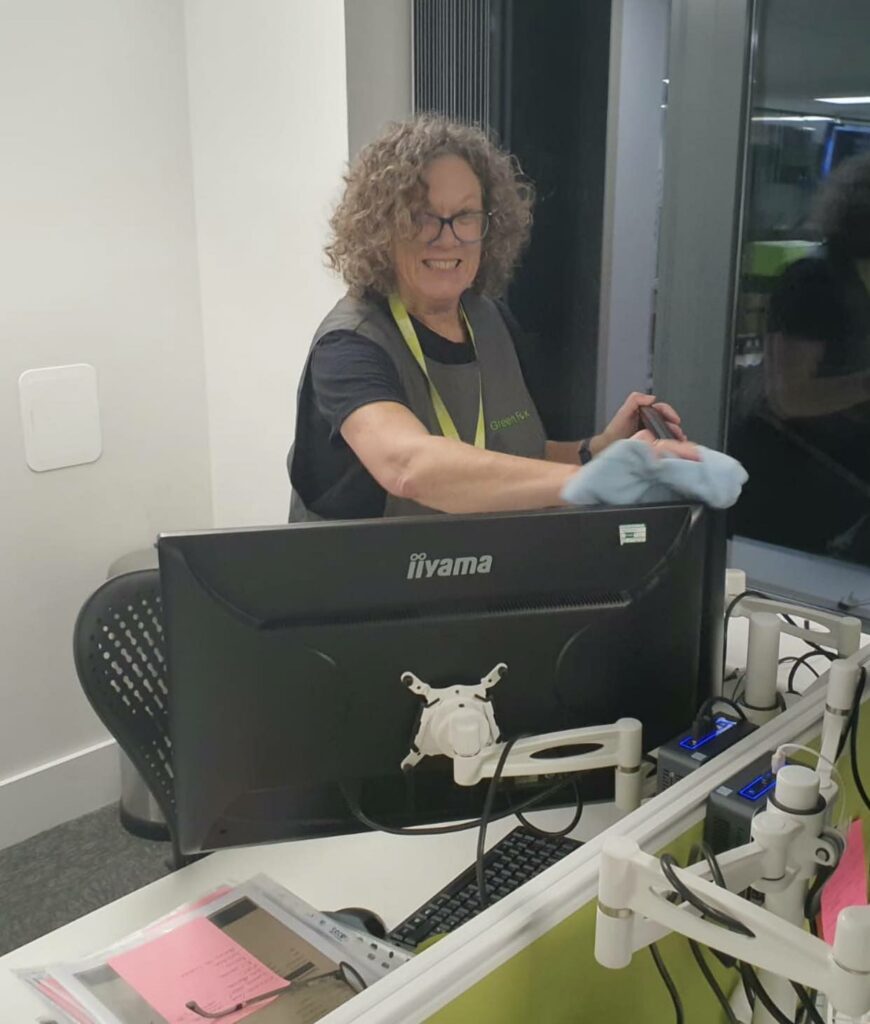 A good commercial cleaning company that claims to provide reliable commercial cleaning services should be able to provide references from other local businesses in a similar sector. Always be sure to take these references up before signing a contract with a commercial cleaning company.
What do some of our clients say on Trustpilot?
"Green Fox Cleaning are a fantastic local cleaning company. They are highly professional, very friendly, flexible, and provide outstanding, reliable service and communication. They are an absolute pleasure to work with and I would recommend them any day!"

Renne Ward - Corelogic
"Since joining Shoreham Academy as our cleaning contractor, Green Fox have made a huge improvement in the way the cleaning contract operates, with a strong emphasis on personal support from the management team, who have always taken a keen interest in ensuring everything runs smoothly.
Our input is now quite minimal as Green Fox take care of all our needs – we are certainly in very capable hands. 'Small enough to care, big enough to cope' - Green Fox are all that we hoped for in a cleaning contractor and more."

Kelvin Coburn - Premises Manager, Shoreham Academy
"Since moving into our large headquarters in 2019, we struggled to find a cleaning contractor that could attend to our large scale developing office space. Green Fox not only provided a flexible and adaptable service for us, but their communication is outstanding and their reliability relieves any additional pressures from us. During the Covid-19 outbreak, Green Fox acted fast to provide us with a thorough Covid-safe environment throughout the entirety of the pandemic, offering and supplying innovative and suitable products."

Louisa Hendrick - Facilites Manager, Aerial Direct
At Green Fox Cleaning, we offer a number of benefits when it comes to our commercial cleaning services. They include, but are not limited to, the following:
GPS tracked shifts, to guarantee staff attendance, for how long you are paying for.
24-hour client support to both our clients and cleaning operatives.
Clear and detailed cleaning schedules, so you know exactly what to expect.
To find out about our reliable commercial cleaning services and how we can help improve the appearance of your premises, click here to contact your LOCAL office.