School cleaning services case study - Shoreham Academy
At Green Fox, we clean for numerous state schools, private schools and academies alike of all sizes. This post is a school cleaning services case study which details how we have transferred just one of these schools through our hard work and professional, local approach.
The below photos give a slight insight into the scale of the task associated with when we were awarded the daily cleaning contract at Shoreham Academy where daily cleaning services started in August 2021 .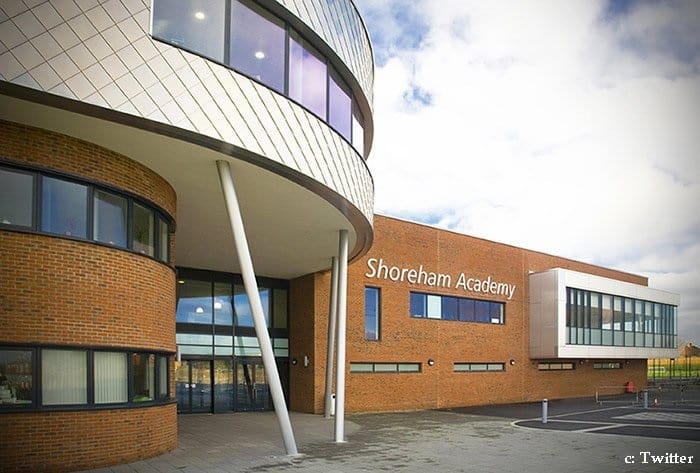 The size of the task ahead for this school cleaning services case study
Based over three floors, with a site in excess of 13,000 square metres and boasting two sports halls and a dance hall utilised by community lettings until after 9pm, the size of the task and the amount of planning required to ensure the smooth running was clear to see.
For the previous ten years, the school cleaning services contracted cleaning services were handled by a large and well known national cleaning company. The contract was being run with staff shortages, standards were poor and staff morale was reportedly low.
The cleaning team required at this site owing to the size was circa 15 cleaning staff per day, to include a site supervisor to oversee the daily running, and liaise with the facilities management team.
Transferring existing site staff to our employment
Upon contract award in this cleaning services case study, we had to firstly consider a piece of legislation known as TUPE. The full name being the Transfer of Undertakings (Protection of Employment) Regulations 2006, TUPE is a piece of legislation that is designed to protect staff when a service provider changes hand, and stops employees constantly fearing for job security.
Many clients can view TUPE as a bad thing, as they often look to change cleaning contractor as the cleaning standards have been poor, and expect to have exactly the same issues if the new cleaning company inherit the same staff. Despite what some unscrupulous cleaning companies may tell you to win a school cleaning services contract, TUPE is not optional. A typical fine for non-compliance is circa £10,000 per employee! You can read more about TUPE from one of our other useful posts by clicking here.
For us, TUPE can be a GREAT thing. If the staff have the right attitude, we can always teach the skills to clean properly with our British Institute of Cleaning Science (BICSc) in-house accredited trainers. They know the premises, but have perhaps lacked guidance, motivated and management.
Prior to commencement of the contract, we met the current team on a few occasions with the agreement of the facilities team, to allow us to reassure the current team and explain how the transferring process would work.
Changing company for a cleaner can be a worrying time - is their job safe? What will their new manager be like?
The team here quickly realised they needn't have worried, From day one they received a pay rise, and a great employee benefits package. One employee had been there for 8 years, and one for 12 years - always on the minimum wage. At Green Fox Cleaning, we always pay our staff a fair wage - NEVER the minimum wage!
Having said this, if any transferred employee fails to meet our required highest levels of professionalism and cleaning standards, we will instigate performance management measures, which can ultimately result in job loss. In this case, three of the ten transferred staff (including the long serving supervisor) were unwilling to work with us, and lost their jobs after a couple of weeks despite the efforts of our teams to support and develop them.
Our Management Team recruited replacement staff for the existing vacancies that were not filled by the outgoing cleaning contractor, and those for the vacancies from those failing to meet our standards.
Mobilisation of this school cleaning services case study
In the weeks and months from contract award to starting our work at Shoreham Academy, we worked closely with our carefully selected eco-conscious suppliers, to ensure we selected the best equipment and chemicals to undertake the task.
Floor plans were used to carefully plan and allocate cleaning areas for each operative, to ensure they were fairly spread and achievable within the allotted time. When it comes to school cleaning services, it is essential that the time allocated to each area is sufficient to clean to a clinical standard.
Previously most cleaning was undertaken by manual mopping. We quickly identified this was not an efficient use of time, and we could make the work easier for the team, more efficient and deliver better results.
When we started, the team couldn't believe their luck - ride on machinery to clean floors, scrubbing machines and the most effective yet environmentally friendly cleaning chemicals.
The ride on machine was carefully selected to ensure it fitted in the lift, and could access all ten long corridors over the three floors, and access the external sports hall through a safe route. Upgrades included flashing lights and an audible warning system, to keep everyone safe.
All staff were trained in the safe operation of all equipment and chemicals they would be expected to use. Plus they were told of the most important tool in their kit - the cleaning in progress warning sign!
Upon day one of this award in this cleaning services case study, a full classroom day was spent to induct all staff on health and safety, our company processes, and form a team bond between the transferred and new staff - to ensure a one team approach. Leading on from this was our in-house training team training the cleaning team on all aspects of cleaning - from how to correctly fold a cloth, on to more advanced cleaning techniques.
The biggest challenges of this school cleaning services case study
The biggest challenge by far has been the "c" word - coronavirus. The number of staff absences as a result of this virus was significant, meaning meticulous planning and utilising mobile support teams to ensure we delivered our contractual obligations and left the academy looking great - day after day.
The community lettings across the dance hall and two large sports halls are also a challenge. These are used until 9pm, meaning our later team have a one hour window to work together to clean these large spaces and associated changing rooms before the end of the shift. Teamwork and carefully structured shift patterns, along with close liaisons with the Shoreham Academy premises team for any short notice changes ensure this also runs like clockwork, planning weekly letting use cleaning rotas to the finest detail and timings.
Five positive changes from this school cleaning services case study
Since the start of this school cleaning services case study contract, we are proud to confirm the following improvements:
A reduction of weekly cleaning services by 10 per week (from 300 to 290) through the placement of effective and efficient cleaning technology.
A reliable, consistent cleaning team delivering the highest quality services.
A new cleaning team supervisor that takes pride in her work, motivates the team, and has a great relationship with the Shoreham Academy facilities team
Continual improvement and adaptation to tackle new challenges when the occur
Regular positive feedback from the Facilities Management team at Shoreham Academy
Shoreham Academy feedback from this school cleaning services case study
The below review is from the Shoreham Academy Facilities Manager which was received after we had been delivering cleaning services for nine months. It is testament to the heard work of the local management and administration team, as well as each and every hard working Green Fox employee that works at the academy.
We hope you have found this school cleaning services case study useful. We look forward to a long and healthy working relationship with all at Shoreham Academy, as well as all our other clients served by our local offices.
You can click here to contact your local Green Fox Cleaning office, to see how they can help improve the appearance of your premises with our school and academy cleaning services.