School cleaning services Wirral
A clean and well-maintained school is essential to encourage the best learning for your students. If you're based in or around Wirral and looking for high quality school cleaning services, be sure to read on.
If you google "school cleaning services Wirral" or "school cleaning services in Wirral", how do you know where to begin looking?
If we were to tell you that the Director of our Wirral office, Clodagh Donnelly has a long background as a teacher and understands the exact needs for school cleaning and the surrounding safeguarding considerations, that would probably make you realise we have a good idea of what you need!
Here are possibly the top three considerations when it comes to appointing a contractor for your school cleaning services in Wirral - or anywhere else! Don't forget, we have regional offices across the country - you can simply click here to contact your local office to learn more.
Highly vetted staff - safeguarding within the educational sector is key.
A reliable service -you never want to come into a school where the cleaners haven't turned up.
Highly trained staff - it's essential your cleaning team know how to work safely, and efficiently.
We understand the need for high vetting at schools, and follow the safer recruitment process. Enhanced DBS checks, other background checks and referencing are just a few of the steps in our recruitment process for school cleaning services in Wirral.
We operate a GPS system that is monitored round the clock by an on-call manager. In the event a member of staff doesn't clock in at work when expected, this is investigated at the time, to ensure you get the full cleaning service you are paying for, day after day. It also allows us to ensure our staff leave safely at the end of their shift when clocking out.
Our staff are trained by our in-house British Institute of Cleaning Science (BICSc) training team. They are trained to a nationally recognised standard to work efficiently and effectively, whilst working safely at the same time.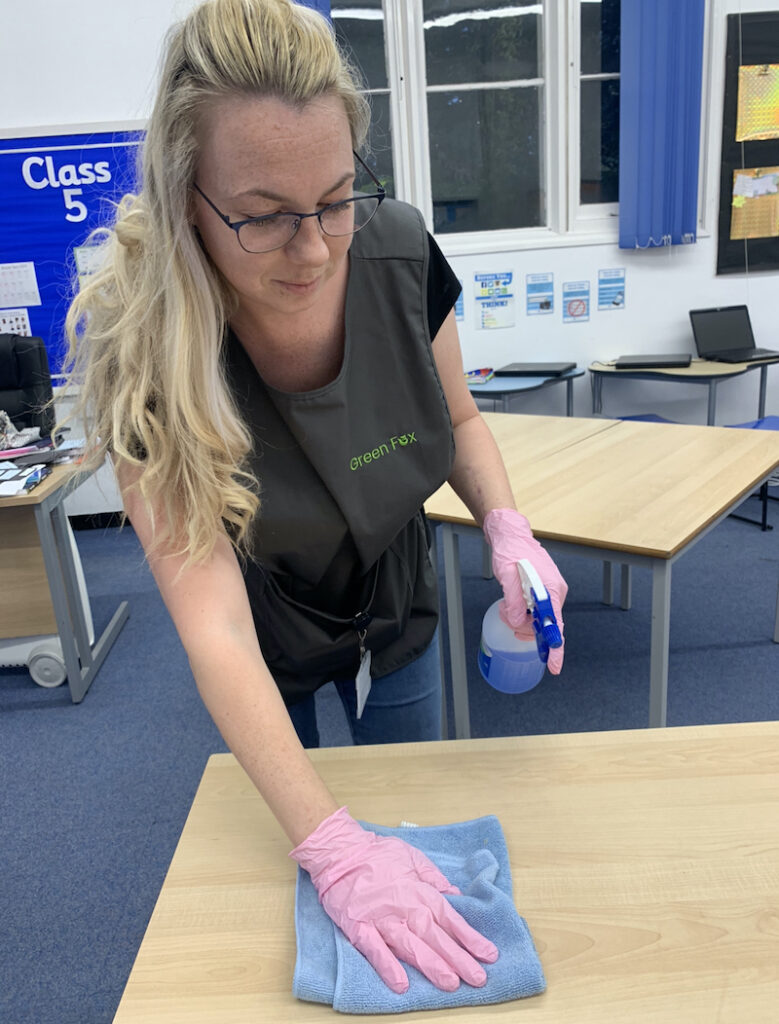 A healthy environment for learning
Maintaining a hygienic environment is paramount when it comes to educational institutions. School cleaning services in Wirral or any other location supplied by Green Fox Cleaning are delivered by a team equipped with the knowledge and expertise to eliminate germs, bacteria, and allergens, thus reducing the risk of infections and allergies among students and staff. Regular cleaning routines with clear cleaning schedules help prevent the spread of illnesses, creating a healthy space that allows for optimal learning and productivity.
Enhanced safety
Maintaining a safe and sanitised school environment is crucial for the well-being of everyone on site - pupils, staff and visitors. Green Fox Cleaning follow industry best practices to ensure that all high-touch surfaces, such as door handles and other high touch points, desks, and shared equipment are thoroughly disinfected. By reducing the presence of harmful bacteria and viruses, these services help minimise the risk of outbreaks and promote a safer environment for all.
A clean and organised school promotes a positive atmosphere that contributes to student engagement and productivity. Green Fox Cleaning school cleaning services in Wirral do not not only focus on hygiene, but also pay attention to the aesthetics of the premises to give the best possible impression. From spotless floors to sparkling windows, our school cleaning services ensure that your school looks welcoming and professional, leaving a lasting impression on students, parents, and visitors.
Be treated as an individual school, not a template contract
Every school has unique cleaning requirements based on its size, layout, and specific needs. Professional school cleaning services in Wirral provided by Green Fox Cleaning offer tailored solutions to meet these diverse demands. Whether it's regular daily cleaning, deep cleaning during holidays, or specialised services like carpet cleaning or hard floor treatments, we will create a customised cleaning plan that fits your school's schedule and budget.
In summary
Investing in Green Fox Cleaning and trusting our professional school cleaning services in Wirral is an investment in the well-being and success of your educational institution. By ensuring a clean, healthy, and inviting environment, these services create the perfect foundation for effective learning and growth.
With our expertise and dedication, we help optimise the educational experience for students and staff alike. So, take the proactive step of partnering with our reliable school cleaning services in Wirral and provide your school community with a safe, sanitised, and inspiring space to thrive.
Our school cleaning services offer a number of benefits, including the following:
Proactive contract management
GPS clocked and monitored shifts - never miss a clean!
24-hour client support line
Regular site audits to ensure consistently high cleaning standards
Eco-friendly cleaning equipment
Highly vetted and trained staff
We also have numerous other regional offices covering Hampshire, East Sussex, West Sussex, Surrey, Wiltshire and Berkshire.
If you would like to know more about our school commercial cleaning services, click here to contact our Wirral office directly, or click here to contact another local Green Fox Cleaning office, and let us provide a free, no obligation quote for your school cleaning services.
A bit about The Wirral
The Wirral is a stunning peninsula located in the northwest of England, situated between the River Mersey and the River Dee. With its picturesque coastal landscapes, charming villages, and rich history, the Wirral offers a delightful blend of natural beauty and cultural heritage.
One of the standout features of the Wirral is its beautiful coastline. The peninsula boasts miles of sandy beaches, rugged cliffs, and tranquil estuaries. Places like West Kirby, Hoylake, and New Brighton are popular destinations for beach lovers and water sports enthusiasts. Whether it's taking a leisurely stroll along the promenade or enjoying water activities like sailing and windsurfing, the Wirral's coastal areas offer a refreshing escape from the hustle and bustle of everyday life.
Aside from its natural attractions, the Wirral is steeped in history and culture. The area has a rich heritage dating back centuries, evident in its numerous historic landmarks and buildings. Visitors can explore the iconic Port Sunlight Village, built by the philanthropist William Lever to provide housing for workers in his soap factory. Additionally, the remains of ancient Roman settlements, such as the Roman Baths in Parkgate, offer glimpses into the region's past.
The Wirral also hosts a vibrant arts and cultural scene. The area is home to various art galleries, theatres, and music venues that showcase local talent and international performances. The annual Wirral Festival of Firsts celebrates creativity in all its forms, featuring art exhibitions, literary events, music concerts, and theatrical performances.
For nature enthusiasts, the Wirral offers an abundance of green spaces and wildlife reserves. The Wirral Country Park and Thurstaston Common provide opportunities for peaceful walks, birdwatching, and exploring the diverse flora and fauna of the area.
With its captivating landscapes, rich history, and vibrant cultural scene, the Wirral is a destination that offers something for everyone. Whether you're seeking outdoor adventures, cultural experiences, or simply a tranquil retreat, the Wirral is a hidden gem waiting to be discovered.
We hope you found this article about school cleaning services in Wirral useful, and it helps you in your search.