The importance of good veterinary practice cleaning and anigene
Veterinary practices like other healthcare sector premises require the highest levels of cleaning and disinfection. A single cleaning mistake could become a huge problem, with poorly animals and surgery taking place, only the highest clinical cleaning standards are acceptable.
Most veterinary practices outsource their cleaning requirements, allowing them to focus on running their business. You can learn more about the benefits of outsourcing your cleaning by clicking here.
"Don't forget to ensure you keep your veterinary practice car park clean, and litter pick on a regular basis. A car park full of rubbish will give a negative appearance of your premises before your customers even enter, often at a distressing time in their life. It can be easy to focus on getting everything looking great inside, and forgetting the grounds of your practice."

Paul Barrett - Company Director
Good cleaning processes from highly trained cleaning staff is essential, but without the knowledge of the correct and most suitable cleaning products to use in the veterinary practice cleaning sector, you can never be certain that your premises is as clean and safe as it should be.
Anigene and veterinary cleaning
There are many suppliers of veterinary practice cleaning products, with one established supplier being Anigene.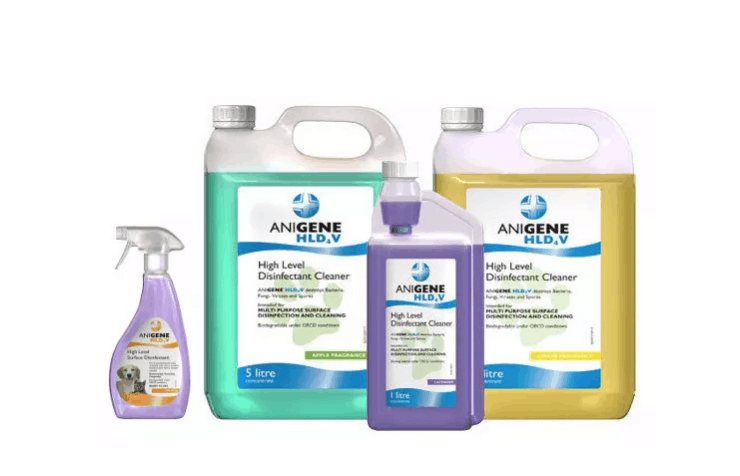 As well as ensuring the services of a good commercial cleaning company are in place at your veterinary practice to keep everything safe for your staff and visitors (both human and animals), correct product selection and knowledge is essential.
At Green Fox Cleaning, we are highly experienced in the veterinary practice cleaning sector. We provide daily cleaning services for independent groups of veterinary practices, as well as various practices for national giants Vet Partners and IVC Evidensia.
A firm favourite of our products within the veterinary practice cleaning sector is the Anigene range. Specifically designed for veterinary practice cleaning, it is highly efficient and proven to be effective.
There are a wide range of products available in the anigene veterinary practice cleaning range, which are specially designed for the veterinary cleaning sector and offer a number of benefits, including the following:
Animal safe -No chlorine or other potentially harmful ingredients and does not require rinsing
Environmentally friendly - does not contain constituents that harm the environment or aquatic organisms
Alkaline based, providing high cleaning properties
Manufactured in the UK, to ISO 9001 standards
No chlorine or other products that could be harmful to animals
Proiven against the most resistsent animal pathogens, including canine parvovirus, feline calicivirus and the causative organisms of both ringworm and kennel cough
The above make it a firm favourite for us at Green Fox Cleaning, as an environmentally conscious cleaning company.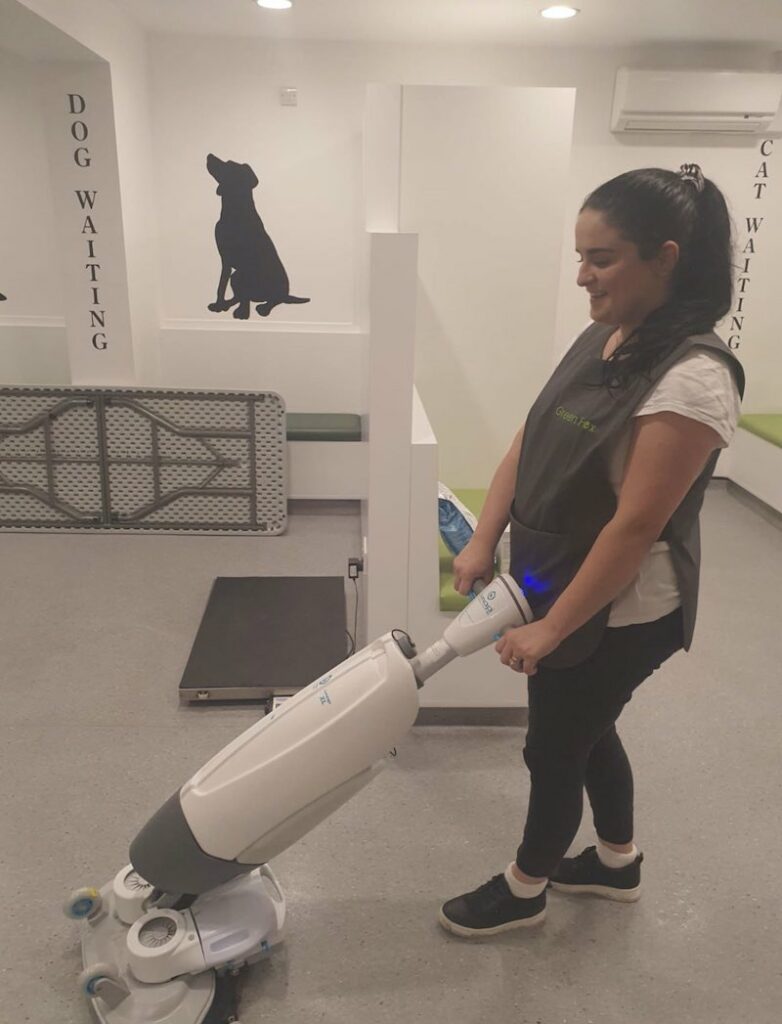 Where can anigene be used?
Anigene can be used in numerous areas for veterinary practice cleaning, to include hard floors in reception and consult rooms, walls and animal habitats when unoccupied, to include surfaces and sinks. It really is a versatile veterinary practice cleaning product.
In summary
We hope you have found this article useful, and that it has given you some food for thought. Careful product selection and the placement of a good commercial cleaning company will make your veterinary practice a safer place for each and every visitor, and give the best possible impression all round.
To find out more about our work in the veterinary practice cleaning sector and how we can help improve the appearance of your practice with a reliable and local cleaning service, click here to learn more.
You can learn more about the history of the veterinarian sector from wikipedia by clicking here.