Why should you considering outsourcing your cleaning?
Whether or not to outsource cleaning services for your business is ultimately a strategic decision. Outsourcing your cleaning arrangements can offer many benefits to business owners who want their teams to focus on growing and improving the business, rather than focusing on business maintenance and cleaning issues, especially amid a growing workload and on a tight budget.
The question of whether to outsource cleaning services at your workplace is a common one, and one that more and more businesses are making the decision of doing. But why?
Historically, some businesses and schools were insistent that they would keep cleaning services in-house, because it was cheaper. The review process would be something like this:
To employ a cleaner in house will cost us £10 per hour for 10 hours per week. This will cost us around £430 per month.
To engage a commercial cleaning company for the same hours will cost us around £700 + VAT per month, so its a no-brainer to keep the cleaning in-house, right?
Consider the hidden costs if you don't outsource cleaning
The following five points are often forgotten when deciding whether or not to outsource cleaning services:
The cost for someone else to clean if the cleaner is sick, or on holiday
National insurance pension and other associated costs
The cost of equipment - vacuums, mops, sprays, cloths etc
The cost of whoever is "managing" the cleaner(s) and checking the standards
Ongoing training costs

When you consider the above five points, the price difference is much closer than it may first appear, when considering whether or not to outsource cleaning services at your place of work. There is of course much more to consider than this, but it is likely that the above is going to cost close to, if not more than £250 per month!
What's in it for us if we outsource cleaning at our site?
It's a good question - there has to be a benefit to you. The first obvious benefit is that assuming you select a good company, you can forget about the cleaning, and focus on your main role. It means that someone else is responsible for ongoing standards of cleanliness at your workplace, dealing with performance issues, stock management, risk assessments and much more.
If outsourced correctly, the cleaning can ultimately be a magical mystery that happens in the background. Things such as cleaning audits will be undertaken and sent to you if you wish, and you can have as much or as little involvement in the service as you wish. That is as long as you select a good company - a bad commercial cleaning company could end up causing you more work than before! You can click here to learn more about making a great choice when selecting a commercial cleaning company.
We don't want our in-house cleaner to lose their job
When you currently have your cleaning arrangements in-house, it is natural that you would want to protect these members of staff if the decision os made to outsource cleaning. A good commercial cleaning company will understand the process for transferring cleaners from both other cleaning companies and from in-house roles under The Transfer of Undertakings and Protection of Employment (TUPE) regulations 2006, which fully protects the individuals. You can read our blog on TUPE by clicking here.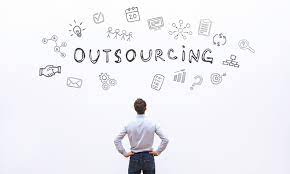 What next?
We hope you have found this article on considerations around whether or not to outsource cleaning services at your place of work useful.. To get in touch with your local Green Fox Cleaning office to find out how we can help you explore this option, click here.
You can learn more about the history of outsourcing services from Wikipedia by clicking here.